By Pot Chavez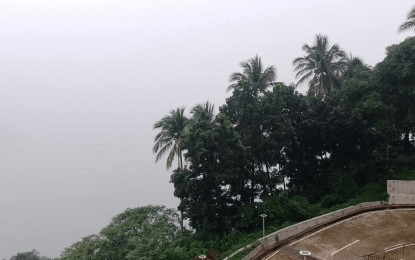 CUENCA, Batangas – The Local Disaster Risk Reduction and Management Office (LDRRMO) in this town reported that an undetermined number of residents have sought hospital care after prolonged exposure to volcanic smog (vog).
In an interview on Tuesday, Michael Abanador, assistant head for operation and warning division of the LDRRMO, said there has been a steady rise in cases of townsfolk complaining of severe colds, coughing and sore throat, which are believed to be caused by inhaling the mixture of ash and sulfur in the air.
He pointed out that while the vog has thinned and has become opaque, people should still wear masks when going outdoors, especially senior citizens and those who have asthma.
The municipal official urged school authorities here to suspend face-to-face classes and to conduct online classes instead.
Many schools elsewhere in the province have already shifted to online learning amid Taal Volcano's continuous spewing of vog, he added.
Abanador said that although classes resumed Monday, the district supervisor of the Department of Education-Batangas suspended classes on Tuesday due to power interruption in the town.
For schools still holding face-to-face classes, he advised teachers to send students home at the first sign of breathing difficulties.
Abandor noted that the forests in Mt. Maculot have served to mitigate the effects of vog, as the trees seem to have absorbed much of the acidic particles floating in the air.
"The municipal government is strictly focusing on banning tree-cutting activities and encouraging tree-planting activities, in partnership with the private sector and other government agencies," he said.
Faye Endaya-Barreto, school principal of Cuenca Institute (CI), said their classes have shifted to online since last week to avoid the worsening of symptoms experienced by students and faculty members.
Barreto, also a former mayor of the town, said some students, employees and teachers in the high school department experienced symptoms after exposure to vog.
Meanwhile, Pines Domingo-Pangan, president of De La Salle-Lipa Integrated School Faculty and Staff Association, said the school announced that parents have the discretion to allow their children to attend face-to-face classes or choose online modality.
He stressed that while there is no visible vog in Lipa City, all teachers and students attending on-site school activities are advised to wear face masks in open areas. (PNA)