SAN FRANCISCO, November 16, 2010 (AFP) – The Beatles finally came to iTunes on Tuesday.
"We love the Beatles and are honored and thrilled to welcome them to iTunes," Apple chief executive Steve Jobs said in a statement. "It has been a long and winding road to get here."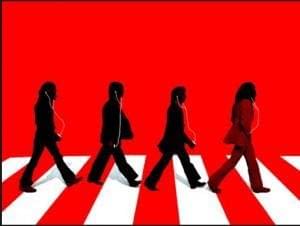 All 13 Beatles studio albums – from "Sgt. Pepper's Lonely Hearts Club Band" to "Revolver" to "The White Album" were selling in Apple's online entertainment store for between 12.99 dollars and 19.99 dollars or 1.29 dollars a song.
Fans could also purchase a comprehensive "Beatles Box Set" for 149 dollars which features the Beatles first US concert, "Live at the Washington Coliseum, 1964."
The appearance of the iconic British pop group on iTunes has been the subject of years of tortuous negotiations between Apple, representatives of the Beatles and their record label EMI Group.
"We're really excited to bring the Beatles' music to iTunes," said Paul McCartney. "It's fantastic to see the songs we originally released on vinyl receive as much love in the digital world as they did the first time around."
Ringo Starr, the other surviving member of the group, said he would be "particularly glad to no longer be asked when the Beatles are coming to iTunes.
"At last, if you want it – you can get it now – The Beatles from Liverpool to now!" Starr said.
Yoko Ono, widow of John Lennon, said "in the joyful spirit of Give Peace A Chance, I think it is so appropriate that we are doing this on John's 70th birthday year."