"The American beauty industry is about convincing people what they should look like. People are constantly dissatisfied with their 'look' because of contrary images in mass media. Blondes want to be brunettes, straight haired women want curls, and Pinays want to be Westernized.  I believe in enhancing our naturally beautiful features – our hair, faces and skin.  God made us beautiful…it's my job to help you discover and appreciate that beauty that's already within you."
I'm ultra-excited to announce: My new salon in Los Angeles is opening soon, so I'll be able to do my magic in both Long Beach and Los Angeles.  Plus, you can enjoy my new make-up line anywhere in the world.  As my brand expands, so does my need to meet the needs of more and more of you.  I find that many of you have no idea how beautiful you are.  From the ripping and the running of your daily lives, to the lack of appreciation for what you do at home, it's not surprising that you don't feel as beautiful as you should.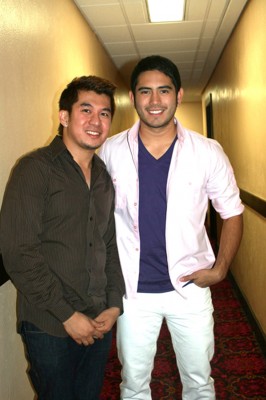 Marlou Colina with Gerald Anderson
However, if there is any advice I can give to you; it is to take the time to pamper yourself – you deserve it.  Join a Women's Salon Day Club, surround yourself with other women that want the same 'good feelin' as you do, and make sure that you take that weekly 'Me Day' so that you can make-over you mind, body and your soul.  No one will notice you're away, but they will notice you when you return.
Fact: A big part of being a success begins with looking and feeling successful.
Marlou Colina got his start in the Philippines as a stylist assistant, and has proven that the investments of hard work and determination pay off in success.  After immigrating to the U.S., Marlou launched his flagship salon and signature 'Beautiful You' Make-Up line in Los Angeles, infusing his brand with a distinctively Filipino sense of style, personalized service and dedication to the enhancement of our natural beauty.
He prides himself on building success in the U.S. while staying true to his Filipino roots – and his staff, style, clientele and marketing reflects his passion for his Filipino heritage.  Just like at home, Mom keeps the books, Dad handles the maintenance, his fiancé' helps out with prep, while Ms. Erika handles customer service and cosmetic sales.  As a result, the Marlou Colina Salon is a haven for Filipino celebrities that live or pass-through Los Angeles. Filipino ICONS like KC Conception, Charice, David Foster, Denise Dador, David Hernandez, Maricar Reyes, Boy Abunda, Sarah Geronimo and Bea Alonzo all visit Marlou's salon for a taste of "home".
So get motivated.  Make this the best summer ever!
Marlou Colina is a celebrity stylist and founder of The Marlou Colina Salon
and Celebrity Make-Up Line. His shop is located at 3848 Atlantic Avenue, Suite One,  Long Beach, California. He can be reached at
562.988.3101 or you may visit his website at   HYPERLINK "http://www.MarlouColina.com" www.MarlouColina.com.