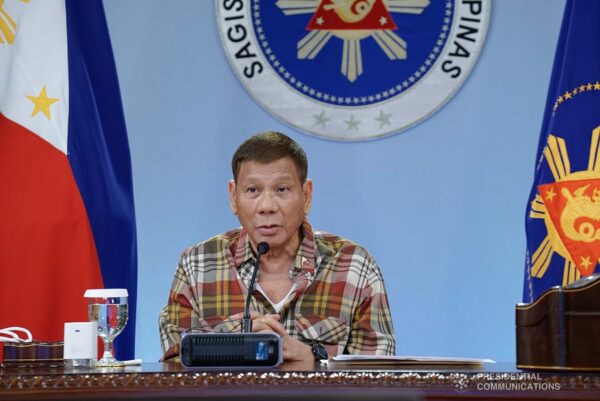 MANILA, May 1 (Mabuhay) — The proposed P30,000 benefit claim for workers who contracted coronavirus disease 2019 (COVID-19) is just awaiting President Rodrigo Duterte's signature, Department of Labor Secretary Silvestre Bello III said Saturday.
Bello said, "Yung sakit na COVID-19 [ay magiging] compensable na 'yan, hinihintay na lamang ang approval ng ating Pangulo" (COVID-19 would become a compensable illness under the resolution that is awaiting the President's approval.)
He reiterated that the Employees' Compensation Commission (ECC) has proposed a P30,000 one-time benefit claim for workers who have fallen ill of COVID-19.
"Merong resolusyon ang ECC diyan. Kapag tinamaan ka ng COVID sa trabaho mo, mayroon kang assistance na ?30,000. One time lang po yan."
He said workers, regardless of where they are employed — micro, small, and medium enterprises — can claim this benefit through the Social Security System (SSS).
"I have no reason to doubt that the president won't approve it…Kaya pagdating niyan sa lamesa niya, pipirmahan agad ng Presidente natin 'yan" (Once it reaches the table of the President, he will surely sign it), Bello said.
Last April 28, ECC, chaired by Bello, has approved the inclusion of COVID-19 among its list of occupational and work-related compensable diseases.
The inclusion of COVID-19 in the list of compensable diseases means that if a worker from the private or public sector contracts the virus, they may be entitled to receive compensation from the ECC's Employees' Compensation Program.
ECC board resolution 21-04-14 states that COVID-clinically diagnosed and consistent with the history, and signs and symptoms of COVID-19 supported by diagnostic proof, to include reverse transcriptase polymerase chain reaction (RT-PCR) test, is compensable in any of the following conditions:
There must be a direct connection between the offending agent or event and the worker based on epidemiological criteria and occupational risk (e.g. healthcare workers, screening and contact tracing teams etc.)
The tasks assigned to the worker would require frequent face-to-face and close proximity interaction with the public or with confirmed cases for healthcare workers`
Transmission occurred in the workplace
Transmission occurred while commuting to and from work
Earlier, two senators have welcomed the ECC's latest resolution. (MNS)
READ NEXT: F2F class resumption possible by August