By Ferdinand Patinio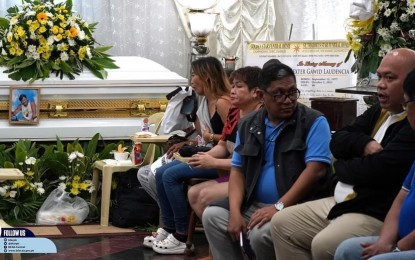 MANILA – The Department of Agriculture-Bureau of Fisheries and Aquatic Resources (DA-BFAR) has extended assistance to the families of the three fishermen who died in a ramming incident off the waters of Pangasinan in the West Philippine Sea (WPS).
In a statement Friday, the DA-BFAR said its national director Demosthenes Escoto turned over PHP20,000 in financial aid and food packages to each bereaved family during his visit to the wake of the three fishers — Benidecto Olandria, Dexter Laudencia and Romeo L. Mejico Jr. — in Barangay Calapandayan, Subic, Zambales on Thursday night.
"BFAR sympathizes with you wholeheartedly. We know that no amount of help can equal the lives of your loved ones, but our agency is here to provide initial assistance and ease your feelings even for just a little," Escoto told the families.
He said the BFAR would also provide scholarships for their children's college education in fisheries at any state college or university where they are qualified for admission.
The education assistance covers tuition, monthly stipend, and thesis allowance until they finish the program.
Scholars will also be prioritized by the DA-BFAR for employment, Escoto added.
On the other hand, the 11 survivors of the maritime incident each received PHP2,000 cash aid and food packs from the bureau.
Escoto, meanwhile, has committed to help in repairing the vessel that was damaged during the Oct. 2 incident to help the affected fisherfolk resume their livelihood activities.
The BFAR would also provide a new 62-footer fiberglass reinforced plastic (FRP) fishing boat to the Subic Commercial Operators Fishing Association Inc.
Delma Morados, the association's vice president, received the award on behalf of the group Thursday night.
Escoto also told the families that additional livelihood packages such as post-harvest training and equipment would be given to help them through the bureau's Central Luzon regional office.
"We have deep respect for the fishermen of the Philippines, whom we consider heroes and allies of the government in ensuring that there is enough food in the country," he said.
"We don't want to see fishermen who died while sacrificing for their family and the country, so we are sorry for what happened and we are with you in seeking truth and justice," he added, citing President Ferdinand R. Marcos Jr.'s assurance that the government will hold accountable those behind the tragic incident. (PNA)