By Stephanie Sevillano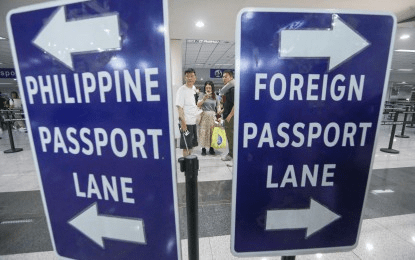 MANILA – The Bureau of Immigration (BI) on Wednesday reminded departing foreigners to settle requirements and fees early on, considering the expected heavy volume of travelers for the Lenten season.
"We are expecting a surge in passengers at their airport this coming 'Undas' and this time we are seeing a tremendous increase in the volume of New Year's Day travelers with the total lifting of all Covid-related travel restrictions," BI Commissioner Norman Tansingco said in a statement.
Tansingco advised departing foreigners to get their required permits like re-entry permits or special return certificates in the immigration's district or satellite offices before their departure date.
"Securing the required permits early will decrease queueing time in half, as they will not have to line up at the BI's airport cashiers anymore," he added.
This shall apply to registered aliens who are considered permanent residents, workers, or students in the country.
For international tourists who have been in the Philippines for at least six months, emigration clearance certificates may also be secured before departure.
Besides the BI's extension offices, departing foreigners may access other immigration services online via e-services.immigration.gov.ph.
Earlier, the BI assured to deploy augmentation personnel in all its airports to address the high volume of passengers from 'Undas' up to the Christmas and New Year holiday.
It will also implement a no-vacation leave policy for all its immigration personnel.
The immigration projected around 4 million passengers in the country's borders for the last quarter of 2023.
Manila road closures, rerouting
The Manila City government, meanwhile, is set to implement road closures and rerouting starting Oct. 31 for Undas 2023.
In an advisory, the Manila Public Information Office (PIO) announced the closure of several roads, starting at 10 p.m., to cater to those visiting the Manila North Cemetery.
These include the stretch of Aurora Boulevard (from Dimasalang Road to Rizal Avenue); Dimasalang Road (from Makiling Street to Blumentritt Road); P. Guevarra Street (from Cavite Street to Aurora Boulevard); Blumentritt Road (from A. Bonifacio to P. Guevarra Street); Retiro Street (from Dimasalang Road to Blumentritt Road); and the Maceda Street (from Makiling Street to Dimasalang Road).
"Those visiting the nearby cemeteries may utilize the parking areas (in) P. Guevarra Street (from Blumentritt Road to Aurora Boulevard); Felix Huertas Street (from Blumentritt Road to Aurora Boulevard); Oroquieta Street (from Blumentritt Road to Aurora Boulevard); Simoun Street (from Dimasalang Road to Mayon Street)," the traffic advisory read.
The city government, meanwhile, provided alternative routes for all affected motorists.
"For La Loma and Chinese Cemeteries, take the stretch of Rizal Ave. & J. Abad Santos Ave. as your point of entrance or exit (vice versa)," it added.
For those coming from Rizal Avenue traversing via Blumentritt Road, motorists are advised to go straight ahead via Rizal Ave. to the point of destination.
All heavy vehicles or trucks from A.H. Lacson Avenue, meanwhile, must go straight to Yuseco Street to the destination point, instead of Dimasalang Road.
Vehicles coming from Dimasalang Road must also "turn right to Makiling St., straight to Blumentritt extension to point of destination," instead of utilizing the stretch of Blumentritt Road.
Manila PIO head Princess Abante, meanwhile, said these roads shall be reopened after November 1.
The city will implement the expanded number coding scheme of the Metro Manila Development Authority's on Oct. 30, Nov. 1 and 2, in line with the Barangay and Sangguniang Kabataan Elections and 'Undas'.
This means that coding for vehicles with plate numbers ending with 1, 2, 5, 6, 7, and 8 on the said dates is lifted. (PNA)