By Ferdinand Patinio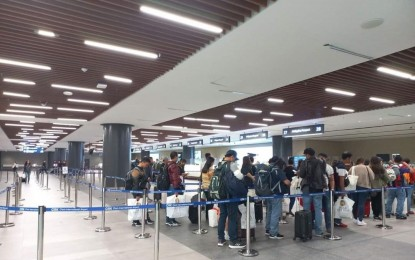 MANILA – The Bureau of Immigration (BI) on Monday assured that it is well-prepared to manage the inevitable increase in passenger volume during peak travel period.
Commissioner Norman Tansingco reported that they have beefed up their operations through deployment of additional immigration officers, the assignment of augmentation teams and the introduction of mobile counters to expedite the processing of arriving and departing passengers.
"While we anticipate some waiting times due to simultaneous arrivals and departures, we have implemented measures to ensure that lines remain manageable," he said in a statement.
He added the number of travelers is expected to surge due to the Undas (All Saints' and All Souls' Days) long weekend.
The BI chief instructed all terminal heads to closely monitor the operations in the coming weeks to detect and resolve any potential issues promptly.
He said their daily operations in international airports are posted on social media during holidays and weekends to allow travelers to prepare in advance.
Tansingco also reminded international travelers to prioritize early check-in by arriving at least three hours before their scheduled flight.
"Early check-in is not just a recommendation; it's a key factor in ensuring smooth immigration procedures. Passengers should make it a priority to complete check-in, and proceed directly to the immigration area," he added.
The BI chief asked travelers to arrive earlier than three hours if they wished to enjoy the other facilities of the airport, including its various restaurants, coffee shops and other amenities.
Meanwhile, Tansingco acknowledged immigration officers who work tirelessly during peak travel seasons, ensuring the security and efficiency of the country's immigration procedures. (PNA)