By Ferdinand Patinio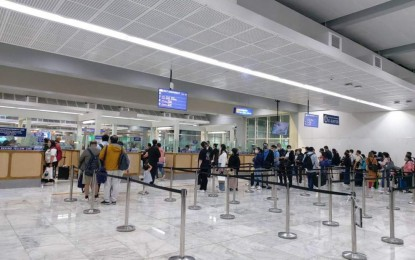 MANILA – A female overseas Filipino worker (OFW) believed to be a minor was intercepted at the Ninoy Aquino International Airport (NAIA) Terminal 1 in Parañaque City for misrepresentation on Tuesday.
In a statement Thursday, Immigration Commissioner Norman Tansingco said the victim, from Sultan Kudarat, was stopped before she was able to board a Philippine Airlines flight to Jeddah, Saudi Arabia to work as a household service worker (HSW).
The victim was able to present a passport with a valid working visa stating that she was 24 years old. However, officers discovered her birth certificate was altered.
"However, it was apparent in her demeanor that something was off. She was obviously younger than her presented age," the BI chief said.
"We suspect that she may be less than 20 years old, and possibly even be a minor. This is a clear case of trafficking that abuses the vulnerabilities of our young ones," Tansingco added.
Current policies require HSWs working in the Middle East to be at least 24 years old.
"The immigration officer who processed her passport doubted the authenticity of the supporting document and submitted it for tertiary check to our forensic documents laboratory. There we were able to confirm that the year of birth and other details in the birth certificate was altered," Tansingco said.
He added the victim was unable to read or write, which may have been abused by her recruiters to make her agree to the scheme.
She was referred to the Inter-Agency Council Against Trafficking for assistance and prosecution against her recruiters. (PNA)