LEGAZPI CITY – Bicol Express, a renowned delicacy made in traditional Bicolano style made from long chilies, locally known as "lada," coconut milk, shrimp paste, onion, pork and garlic took the center stage in the Tuesday Hot-Chow at Kantahan (Sili viand Eating Contest) one of the highlights of the month-long Magayon Festival in Albay.
Eighteen 300 grams of deliciously hot Bicol Express packed in styrofoam bowl were served to nine female and nine male contestants at the Hot-Chow at Kantahan Contest held at the Penaranda Park where thousands eagerly watched in awe for the outcome of the sili-eating challenge.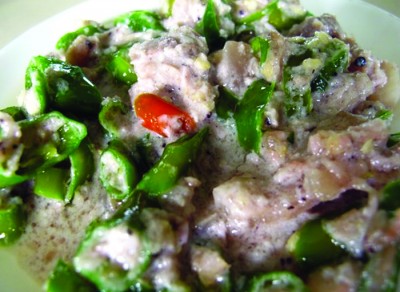 Bicol Express was also named after the train moving from Manila to the Bicol region, famous for its spicy cuisine.
Last year's reigning "Sili" Queen Evangeline Balmedina, 32, of Barangay (village) Banquerohan, an upland village in the southern part of this city bested eight others in the female category in retaining the crown for two consecutive years.
Balmedina downed the 300 grams of Bicol Express as she sang "Isang Babalikan, Isang Iiwanan", an original Pilipino Music (OPM), in less than three minutes. She also won in the "best singer" category.
Balmedina won P10,000 in cash, a trophy, crown, scepter and cape symbolizing that she is the reigning Sili Queen.
Retchel Bantigue, 30, also from Barangay Banquerohan, bagged the second place winning P7,000 in cash plus trophy. Bantigue also ate the 300 grams Bicol Express while singing "Isang Linggong Pagibig," which was popularized by Jukebox Queen Imelda Papin, a Bicolana.
Placing third was Jenny Love Medez, 27, a native of Daraga town in Albay. She won P5,000 cash and a trophy. She sang "Bakit Ba" while eating the viand.
For the male contest category, 24-year-old Jomar Balderama from Camalig town was declared this year's "Sili King" for eating the 300 grams Bicol Express in less than 3 minutes while singing an acapela song.
Like their female counterpart, Balderama won P10,000 in cash, a trophy and the title "Sili King."
Placing second was Don Lorena Jr., 31, also from Camalig town. He won P7,000 and a trophy while Christopher Mancera placed third and won P5,000 cash and trophy.
Under the contest rules, contestants should chew and swallow the 300 grams of Bicol Express while singing.
Albay Gov. Joey Salceda said the sili eating contest had been a regular highlight of the Magayon Festival since 1999.
The Sili Eating Contest made it to the Guinness Book of World Record in 2000, where Bert Gonzales of Camalig was declared by the Guinness as the worlds "Sili King" for downing 300 pieces of "siling labuyo" (a small native hot pepper), Salceda said.
In the original Sili-Eating Contest, contestants have to eat hundreds of raw siling labuyo in the shortest possible time.
Cherrie Longaza, event coordinator, said contest organizers gave this year's contest a new twist patterned after the television program "Pinoy got Talent" wherein a contestant sings while eating peanuts. (PNA)
Bicol Express recipe
Estimated preparation time: 30 minutes; Estimated cooking time: 30 minutes
Ingredients:
1/4 kilo pork, thinly sliced
1 cup Baguio beans
3 cups long chili or jalapeno peppers
1 onion, minced
1 head of garlic, minced
1 cup coconut milk
1 cup coconut cream
2 tablespoons of cooking oil
Salt to taste
Directions:
In a bowl of water with salt, soak chili peppers for 30 minutes then rinse and strain.
In a cooking pan, heat cooking oil and brown sliced pork for a few minutes.
In another pan, sauté minced garlic and onion.
Add to the sauté the browned pork.
Then add the coconut milk, bring to a boil and simmer for 10 minutes.
Add the chili peppers, Baguio beans and cook until dish gets a little dry.
Add the coconut cream and simmer until the sauce thickens.
Salt to taste.