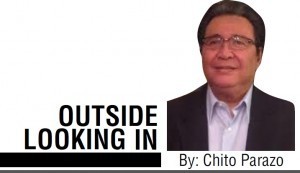 Vice President Jejomar Binay  must be grinning from ear to ear nowadays. Reports have it from political sources that the LP hierarchy is inclined to adopt Binay as their presidential candidate. The camp of DiLG Secetary Roxas however were quick to deny that there is no such move being initiated by LP bigwigs.
Binay, although not considered to be a hardcore opposition, is the sure bet of the United  Nationalist Alliance. If the presidential election is to be held today or this month, Binay will win it by a big margin against anybody, including Mar Roxas, the presumptuous  LP presidential bet. Latest opinion polls for the 2016 presidential election show that Roxas is too far behind Binay.
Binay started his political career as an appointed mayor of Makati after the 1986 Edsa revolution. He became one of President Cory's first appointed local officials or OIC (officer-in-charge). Old timers in Makati are saying that he got his appointment as a gift from former Senator Joker Arroyo, whom he financially helped during the martial law days. Arroyo was then the executive secretary of President Cory. Binay has always been a Cory loyalist.
The administration party of President B. S. Aquino are exploring all options on how they could hang on to their powers. From tinkering the constitution to extend Nonoy's term limit to having Roxas as Binay's running mate in the 2016 presidential election.
Right now, the most logical scenario for the LPs is to pair Roxas with Binay for him to at least have a chance to realize his goal of becoming president after Binay's term. That is of course if he wins the vice presidency. Then mission accomplished.
To guarantee a Roxas win as the next VP, the current administration must have practically demolished all vice presidential aspirants. Both Senators Jingoy Estrada and  Bong Revilla and the ailing Sen. Juan Ponce Enrile are currently locked up in jail for their alleged involvement in the Priority Development Assistance Fund (PDAF) scam. The administration will continue to persecute and demonize these two senators hoping that Jingoy and Revilla will eventually lose their appeal to the voting public.
Come 2016, it's going to be a Binay-Roxas ticket.  Binay will agree to have Roxas as his running mate. He has nothing to lose but everything to gain. Remember that politics is always about addition. Aside from having an unlimited amount of funds for his presidential campaign, he will have both the support of the united opposition as well as the yellow party of Noynoy.
Even Noynoy's  two sisters,  Balsy and Mega  star Kris, stated their preference for Binay. The recent  plunder and graft charges filed against Binay, his son and 21 others are mere political ploys to pressure Binay to enter into a secret political merger with the LP faction of Roxas.
Binay knows that more charges and black ops are coming his way. During his 2010 campaign for the vice presidency, he admitted having extramarital affair which almost caused him his marriage with his doctor wife. A picture of the woman circulated oin the Internet. Although the LP of Roxas denied having anything to do with the exposé, everyone knows that they did it to salvage whatever little hope they had of winning the vice presidency from Binay.
I know Binay is onion-skinned. He wants his good image preserved. He will do what is best for his political career. His daughter is a senator, son  is Makati mayor and another daughter is a congresswoman of the 2nd district of Makati. He will try his best to shield them from any black propaganda. Eventually, he will ultimately merge with the LP and be their presidential bet guest candidate. Roxas knows deep in his heart he  has no chance against Binay. His best bet is just to run for vice president.
But wait. What if Jingoy Estrada persists in running for the VP slot and remains to be in the top spot in surveys despite the PDAF scam? If that happens, this is when you see Senator Franklin "Big Boy" Drilon and Butch "The Bagman" Abad get into the act. In that case, then it's going to be a BINAY/KRIS tandem.
Say what?
I will write about this scenario in my column next.
(Chito Parazo is a former staff member of the Manila Bulletin. He started his journalism career as a police reporter. He covered  the BIR, finance, labor, health, education, and public works departments for the Bulletin.)