By Gloria Jane Baylon
MANILA, Jan. 31 (PNA) – Vice President Jejomar C. Binay is on a multi-pronged first official visit to the United States since his election, expressing "confidence of gaining more U.S. assistance, particularly in the Philippines' fight against climate change, meeting housing targets, and ending human trafficking."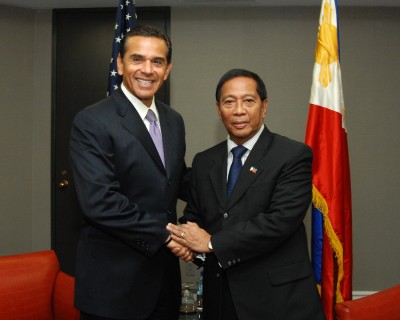 He left on Sunday for a one-week visit, to be highlighted by his attendance at the National Prayer Breakfast at Washington D.C. and a speaking engagement at the World Bank, his media handlers said.
The National Prayer Breakfast is an annual interfaith event, this time also graced by President Barack Obama, and brings together members of the U.S. Congress and other dignitaries and leaders from around the world to affirm commonly-held religious values.
The Vice President is also scheduled to meet Secretary Shaun Donovan of the Department of Housing and Urban Development, officials of the White House Office of Urban Policy, and Ambassador Luis C. de Baca of the Office of Monitor and Combat Trafficking in Persons.
"These meetings would be a great occasion for us to put forward our agenda and strategies on national housing and urban development.
At the Washington-based World Bank, Binay will be the keynote speaker during the annual meeting of its Sustainable Development Network (SDN) on February 2, tackling the related issues of disaster and risk management and urban development.
The annual SDN Week is a venue for SDN members, which includes the Philippines, to share knowledge and interact on emerging, new and innovative developments in the different sectors covered by the Network.
While there, Binay will also meet with top U.S. housing and human trafficking officials to enlist their support on similar policies and programs that the Philippine government is undertaking.
"I am certain we will be able secure more support from the U.S. government, the World Bank and other institutions for our programs here in the Philippines, especially in matters concerning our country's readiness and resilience to climate change," Binay said in a pre-departure speech.
"I am also confident that our meetings with U.S. government officials will also help push our goal of addressing the 3.6 million housing needs, and arrive at a stronger and determined campaign against human trafficking," he added.
The Vice President chairs the Housing and Urban Development Coordinating Council and is the Presidential Adviser on Overseas Filipino Workers' Concerns.
"I hope to share with our friends at World Bank our experiences and strategies in adapting to and mitigating disasters especially in light of our concern on growing urbanization," Binay said.
He noted that the "World Bank (in Manila) has been very supportive of our programs on housing and urban development. We hope to generate their continued support for our other proposed projects, such as the formulation of a National Slum Upgrading Strategy and Urban Renewal for Metro Manila," he added.
When he was the Mayor of Makati City, it was recognized by the World Bank as one of the 2008 Climate Resilient Cities in the East Asia and Pacific region. The World Bank cited Makati's green initiatives such as the electric jeepney.
His meeting with Ambassador de Baca would be an opportunity to thank the US government for its help in placing the Philippines in at least Tier 2 of the U.S. State Department's 2011 Trafficking in Persons Report, according to Binay.
He will also make courtesy calls on Senate President Pro-Tempore Daniel Inouye, Senator John Kerry, chairman of the US Senate Committee on Foreign Relations, and Senator James Henry Webb, chairman of Senate Subcommittee on East Asia and Pacific Affairs.
He will also visit the White House, tour two HOPE IV public housing sites, confer with Habitat for Humanity officials, and meet with Filipino-American businessmen and hold a dialogue with the Filipino community.