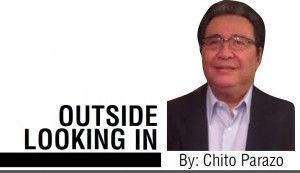 In his recent talks with businessmen, Vice President Jojo Binay disclosed plans to amend the economic provisions of the 1987 Constitution to enable foreign investors to pour in their resources in the country to help spur economic growth and to generate employment opportunities.
This is a very good policy position to be undertaken by Binay once he wins in the 2016 presidential derby. Hopefully, Binay will keep his word of "dissecting" the economic provisions of our 1987 Constitution.
I also hope that what Binay promises to do with the Constitution is not just part of a campaign ploy to win the support of businessmen as well as the common tao to help boost his presidential  aspiration.
The Vice President is one of the most experienced among the four presidential aspirants. However, Binay's presidential aspiration appears to be losing steam after being accused of corruption during his term as chief executive of Makati.
According to Binay, President Aquino's adamant refusal to tinker with the economic provisions of the country's Constitution has made the Philippine economy stagnant as compared with the rest of its neighboring countries.
Most of our neighboring Asian countries have progressed tremendously since they allowed foreign investors to pour in their resources in their respective areas.
According to Binay, he do not just plan or promise. He said he get things done. In order to drive his point of the need to restructure the country's economic policies, he promised to prioritize amendments to the economic provisions of the 1987 Constitution during the first few months of his presidency.
The Vice President also promised that a Binay presidency will strive hard to make the country a more competitive business investment destination by opening up the economy to foreign investors.
Numerous studies have been conducted in the past regarding the impact of "protectionism" on our economy. It was observed that the "government' protectionist policy is not actually protection the nation's economy but, local businessmen that is dominated by oligarch families.
These "chosen few" Filipino businessmen were able to expand and protect their business empires through the years because of their political clout and unlimited supply of "green bucks."
Binay also chided President Noynoy on his refusal to reconsider his position regarding proposals to lower income tax payments. Once elected President, Binay is making assurances to the public that both income and corporate taxes will be lowered by the government to ease up on the current financial difficulties of most Filipinos.
However both President Noynoy and his anointed _Mar Roxas, rejects the proposal to lower corporate and income taxes. calling it counter-productive and will result in potential loss in revenues.
Binay, on the other hand, claimed that the Aquino administration could have accomplished more if President Noynoy is not vindictive, has been pro poor and has been fair in rendering judgment to both his allies and political opponents.
Under his administration, Binay promises to put an end to vindictiveness and political persecution. Once elected President, Binay said he himself will initiate a policy of reconciliation to all his political opponents, if only to heal old political wounds…
Despite being accused of corruption and amassing wealth during his long years of being the mayor of Makati, Binay remains one of the favorites to in the next presidential election to be held in May of this year.
Maybe he might after all.