By Ruben Veloria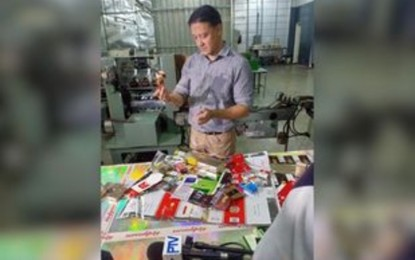 SUBIC BAY FREEPORT – The Bureau of Internal Revenue (BIR) on Friday shut down two manufacturing companies in this freeport for illegally manufacturing different brands of cigarettes.
BIR Commissioner Romeo Lumagui, Jr. led the Tax Compliance Verification Drive (TCVD) team and showed to the media the alleged violations committed by OneSubic Premier Manufacturing Corporation (OPMC), and its sister company Hongcim International Corporation, located at Subic Bay Gateway Park, Phase II, here.
The raid was based on the valid mission order issued by OIC-Regional (R4) Director Emmanuel Ferrer Jr. to conduct a compliance and verification drive on registration and conduct stock-taking of manufactured products, especially excisable items in the area.
It was found out that while OPMC is licensed to operate as a manufacturer of cigarettes but its machineries, brands and other equipment are not registered with the concerned agencies.
"They (OPMC) have a permit to operate and are registered, but they are manufacturing cigarettes whose brands were not registered. Also, their machineries were not registered, too," Lumagui said.
OPMC and Hongcim are engaged in the manufacture and packaging of foreign-branded cigarettes, such as RGD, Baisha, Liqun, Saat, Furongwang Nanjing, Azalea and Bruston.
It was also revealed that OPMC is engaging in unregistered activities such as printing cigarette packaging boxes without prior registration with the Large Taxpayer Excise Division of the BIR National Office as prescribed by existing BIR rules and regulations.
Found inside the warehouses of OPMC and Hongcim were various printing machineries, paper materials, inks, boxes of uncut cigarette filters and grated tobacco leaves, and other paraphernalia.
OPMC reportedly could produce 500 packs of various brands of cigarettes a day.
Lumagui explained that cigarettes should be exported to other countries.
However, he said BIR monitoring teams had seen evidence of sales of RGD in areas in Mindanao.
"It is very clear that there are large-scale violations happening here," said the commissioner, adding that due to this, he will recommend a possible confiscation of all machines used in the illegal manufacturing of said cigarettes.
Lumagui noted that about PHP100 billion are lost in excise tax due to tax fraud, and what the BIR has discovered in Subic means a sufficient loss for the government.
"The government is losing a huge amount in taxes, that is why we should be serious about it," he said. (PNA)