By Benjamin Pulta and Anna Leah Gonzales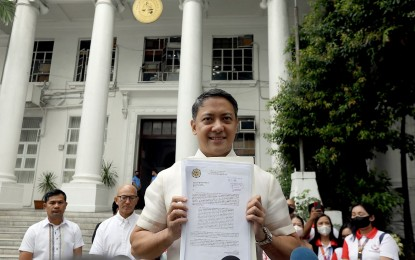 MANILA – The Bureau of Internal Revenue (BIR) on Thursday filed criminal charges against one of its employees who allegedly conspired with his spouse in tampering with point-of-sales machines of private firms to reduce the actual sales and payment of taxes.
BIR Commissioner Romeo Lumagui Jr. filed the criminal complaint before the Department of Justice (DOJ) against the owner of Basebyte Software Management and Consultancy Service, Chiradee Base, and her husband, Aldwin, a BIR employee.
The BIR employee, who had been with the agency for at least 10 years, and his wife were charged with violating Section 264-B of the National Internal Revenue Code of 1997, as amended, for allegedly selling and installing software that would suppress report of actual sales in point-of-sales machines to reduce payment of taxes.
Section 264-B of the National Internal Revenue Code punishes the purchase, use, sale and installation of any software or device designed to suppress electronic records of sales, or to delete records of transactions with a fine of between PHP500,000 and PHP10 million, or imprisonment of between two to four years.
The initial revenue loss from the tampered sales machines was computed to be around PHP6.1 billion.
"The filing of this criminal case against a corrupt BIR employee will be the foundation of my administration. It is unacceptable that our own employees are conspiring with tax evaders when they are the ones who should follow our plans and programs," Lumagui said.
He said separate administrative charges have also been filed, and the dismissal order for Base has been sent to the Department of Finance for confirmation.
"Integrity and professionalism in the institution and among the employees are at the core of my administration. I sincerely want to protect this institution [BIR], as well as all the employees in the revenue service," he said.
"However, a few bad apples remain in the basket. That is why I welcome all complaints against notorious BIR employees, particularly all those who have evidently failed to uphold the BIR's etiquette of integrity and professionalism. I myself will lead the filing of criminal charges against them. I am serious in ridding the BIR of notorious officials," Lumagui said. (PNA)