TFC@theMovies brings current number one Filipino comedy film to 38 theatres in the U.S. and 13 in Canada starting December 5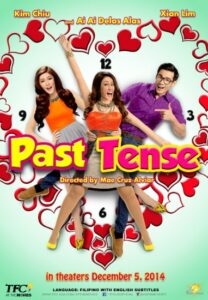 REDWOOD SHORES, CA – The last time Kim Chiu and Xian Lim teamed up on the big screen under award-winning director Mae Cruz Alviar – which was just in early 2014 – their film Bride for Rent grossed over P326 million in the Philippine box office.  Versatile comedienne Ai Ai de las Alas co-starred in Sisterakas, an entry of ABS-CBN Star Cinema to the 2012 Metro Manila Film Festival, which earned over P391 million.  These two films are now the 7th and 4th, respectively, highest grossing films of all time in Philippine cinema history.
TFC@theMovies is giving moviegoers in North America the holiday gift of a jolly ho-ho-ho and a barrel of ha-ha-ha when it brings anew director Cruz-Alviar, the loveteam known as "KimXi" and the genius zaniness of De las Alas in a wild comedy ride of a movie called, Past Tense, to 38 theatres in the U.S. and 13 in Canada, starting this Friday, December 5.
"This is a 'feel good' time for every member of the family, a season of joy and laughter," said ABS-CBN Global Head of Theatricals John-D Lazatin. "With this winning team, viewers will find themselves rolling on the floor with the laugh-a-minute barrage of jokes, comedic characters and situations.  The beauty of this is you can tell that the artists are immensely enjoying themselves in this movie and that energy is contagious.  This is a true laugh trip.  It's a fun way for TFC@themovies to wrap up 2014."
Can You Change The Past Without Messing It Up Further?
This fresh rom-com presents the story of Belle (De Las Alas) in 2034 who wakes up after being in a coma for 20 years.  The last thing she remembers is getting into an accident while chasing after her boyfriend Carlos (Daniel Matsunaga) to apologize. She learns that Carlos died the same night that she got into an accident. Belle couldn't believe how her life turned out.
Belle was given a chance by Papa Time (Benjie Paras) to time travel to 2014 to correct her mistakes, but as the 2034 version of herself.  In doing so, she finds out things that make her decide to change the course of the past. First, she learns that Carlos is a bad guy for her after all and that her best friend Babs (Lim) is in love with her. She then decides to make her younger self (Chiu – yes, no kidding) fall in love with Babs hoping to get Carlos out of the picture and to avoid the accident.
In the process, things go out of her control, putting Belle's future life at risk of becoming even worse.
Well-known movie critic Isah V. Red wrote: "Past Tense is a film about the consequences people have to deal with, the changes they have to face, and the chances they have to give based on the many choices that have to make in their lifetimes. Past Tense features the winning combination of the country's ace comedienne, a certified blockbuster director, and a love team that is loved and adored by millions." 
Catch Kim Chiu, Xian Lim, Ai Ai de las Alas and the complete crazy cast of Past Tense starting this Friday, December 5.  For a complete theater list, visithttp://www.tfc-usa.com/atthemovies/