By Ferdinand Patinio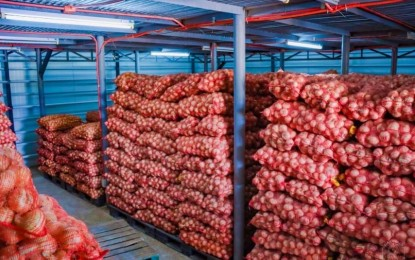 MANILA – The Bureau of Customs (BOC) said on Friday the arrest of a big-time onion smuggler is a huge step towards the government's campaign against agricultural smuggling.
BOC Commissioner Bien Rubio lauded the arrest on Wednesday of a certain Jayson de Roxas Taculog, who was supposedly caught smuggling 30 containers of onions, as reported by Senator Cynthia Villar during the Senate plenary deliberations on the Department of Agriculture's (DA) proposed 2024 budget.
"This shows the commitment of the Marcos administration to go after these big-time agricultural smugglers. Bringing in these goods to the country illegally is a significant threat to our economy, to the livelihoods of small farmers, and to the competitiveness of legitimate businesses," he said in a statement.
"I hope that this latest operation will serve as a strong deterrent for other smugglers not to even attempt circumventing our laws and making a mockery of them," the BOC chief added.
According to BOC Deputy Commissioner Juvymax Uy, the arrest was a result of coordination among key government agencies, as well as the prompt actions of the bureau.
"This showcased our team's unwavering commitment to bringing these perpetrators to justice and upholding the integrity of legitimate trade and importation. In many cases, smuggling agricultural, poultry, and food products pose a threat to the health and safety of consumers," he said.
"For that alone, we want to make sure here in the BOC that we cover all bases and we see the finality of these cases," the BOC official added.
Villar said the big time onion smuggler was arrested by virtue of an arrest warrant of a court in Manila. Among the cases presented are large-scale agricultural smuggling and economic sabotage.
The DA together with the Philippine Competition Commission are investigating the case.
DA Secretary Francisco "Kiko" Tiu Laurel Jr., in a statement, said the arrest of Taculog "is just a beginning."
"With the help from the police, the courts, and local government units, the Department of Agriculture will continue to run after smugglers and economic saboteurs," he added. (PNA)