By Leonel Abasola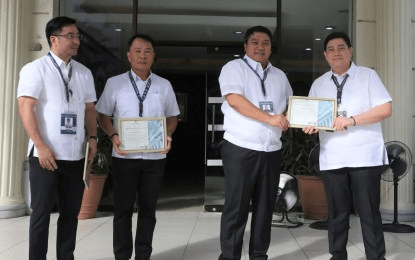 MANILA – Bureau of Customs (BOC) Commissioner Bienvenido Rubio commended the agency's Intelligence Group (IG), Customs Intelligence and Investigation Service (CIIS), and the X-ray Inspection Project for their "significant breakthrough" in curbing smuggling operations in the country that led to the seizure of PHP30.86 billion worth of smuggled goods.
In his congratulatory message during the bureau's flag-raising ceremony on Monday, Rubio said the amount covers only Jan. 1 to Aug. 4, 2023, but has already surpassed the value of goods seized in 2022 by PHP6 billion.
"Their performances have led to a significant breakthrough in our fight against smuggling. The strengthened anti-smuggling operations spearheaded by these teams have yielded outstanding results," he added.
He stressed that the intelligence group's "commitment to protecting our borders" resulted in "the highest total amount of seized goods in the past five years."
"Your drive to ensure trade integrity and safeguard our borders is commendable," Rubio said.
Intelligence Group Deputy Commissioner Juvymax Uy thanked the commissioner for the commendation and also underscored the "many sacrifices" of the men and women behind the intelligence group.
"First, I'd like to thank Commissioner Rubio for giving due recognition to the hard work, commitment, and the many sacrifices of our people to fulfill our mandates. But these accomplishments would not have been possible without the support of the commissioner and the whole agency," he said.
"So, as much as this recognition is for the intelligence group to enjoy, we would like to share it with everyone involved in helping us—from collecting the information against these smugglers to the actual operations. And while we make progress every day, this commendation also signals that more work needs to be done to end smuggling," Uy added.
Rubio also acknowledged the work of the Accounting Division, Port Administrative Officers, Accountants and Staff for their consistent adherence to the Generally Accepted Accounting Principles (GAAP).
While adherence to the GAAP "demands great effort," Rubio said that with their "expertise and willingness to uphold these rules and standards, you have ensured that our financial statements are truthful, transparent, and accurate."
CIIS director Verne Enciso said Rubio's recognition of their work further solidifies their dedication to fulfilling the directive of President Ferdinand R. Marcos Jr. to protect the country's borders and intensify the campaign against smuggling.
"If anything, the good commissioner's words are proof that we are on the right track. For us in the CIIS, our commitment to our people remains steadfast. We leave no room for these smuggling organizations and their activities. It is high time for our people to realize we are on their side," he added.
Rubio also said the milestones of the bureau's different departments demonstrate their hard work.
"Each one of you has shown commitment to the values and principles of the Bureau of Customs, and for that, I am genuinely grateful. I call upon you to remain faithful to the service," he said.
"Together, let us continue to push boundaries, break new ground, and uphold excellence, accountability, and the protection of our nation's interests," he added. (PNA)