By Stephanie Sevillano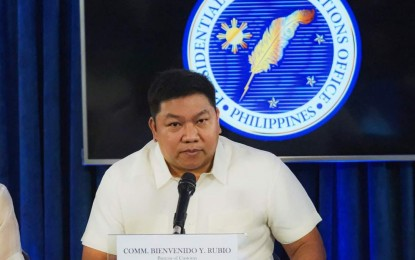 MANILA – The Bureau of Customs (BOC) on Tuesday vowed to inspect more warehouses nationwide amid the intensified crackdown on rice smuggling in the country.

During the Palace press briefing, BOC Commissioner Bienvenido Rubio said this will ensure importers' compliance with payment of duties and taxes in line with the anti-smuggling campaign of the administration under President Ferdinand R. Marcos Jr.

"As per the directive ng ating pangulo (of our president), we will be conducting more inspections of these warehouses and the inspection and visitation will be coordinated with other agencies like the DA (Department of Agriculture) and DTI (Department of Trade and Industry) po," he said.

Alongside stricter inspections, Rubio also assured a close partnership with the Department of Justice (DOJ) to hold smugglers liable.

"We are now in close collaboration with DOJ para po mapabilis 'yung pagsampa ng kaso at file ng charges against smugglers po na na-identify natin (to speed up the filing of charges against identified smugglers)," he said.

The BOC made the statement following its temporary closure of three warehouses containing around PHP505 million estimated aggregate value of imported rice in San Juan, Balagtas, Bulacan.

"We served three letters of authority (LOA) against three warehouses reportedly utilized in storing imported rice located at the Intercity Industrial Complex-San Juan Balagtas, Bulacan," Rubio said.
These include the Great Harvest Rice Mill, San Pedro warehouse and FS Rice Mill warehouse, which allegedly store imported rice from Vietnam, Cambodia and Thailand.
Under Section 224 of the Customs Modernization and Tariff Act (CMTA), the owners and operators of the three involved warehouses have 15 days to comply with the necessary documents from the issuance of LOA.
This means they have until Sept. 8 to submit all proofs of payment of duties and taxes, Rubio said.
"Aside from the import documents, also the lease agreements or lease contracts of these warehouses will also be part that is required to be submitted to the Bureau of Customs," BOC Director for Customs Intelligence Investigation Service Verne Enciso said.
If warehouse owners and operators, however, fail to submit requirements after 15 days, the BOC may confiscate the imported supply of rice under the issuance of a warrant of seizure and detention.
Rubio said the subject warehouses were sealed temporarily to secure the imported sacks of rice found pending the completion of the inventory.

Meanwhile, the BOC recorded around PHP16.8 billion collected tariff for legitimate rice importation as of Aug. 26.

To date, the BOC has also apprehended around PHP30 billion worth of contraband and smuggled goods in the country.

"This is the highest so far in the last five years," he said. (PNA)