By Jean Malanum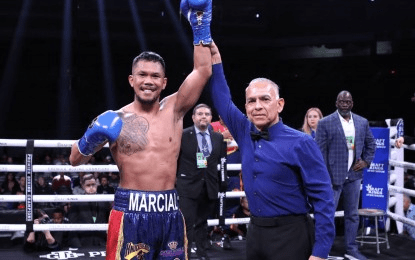 MANILA – Boxer Eumir Felix Marcial will concentrate on achieving his dream of winning an Olympic gold medal after his fifth professional fight set later this month was cancelled.
"Eumir will be coming home from the United States as soon as possible and to join the national boxing team and work on his Australian visa," Philippine Olympic Committee (POC) president Abraham "Bambol" Tolentino said in a statement released on Friday.
Marcial will be joining the national team's training camp starting on Sept. 1 in Canberra.
Marcial's fight this month has been moved to September, which runs into conflict with the 19th Asian Games slated Sept. 23 to Oct. 8 in Hangzhou, China.
Tolentino said MP Promotions president Sean Gibbons has agreed to write off Marcial's training expenses for the supposed fifth pro fight in the US.
"Sean [Gibbons] readily agreed that Marcial focuses on Hangzhou and go after his Olympic dream," Tolentino said.
But Marcial will be facing a tough challenge at the Asian Games as he will be competing in the 81kg category (light heavyweight). He won the bronze medal at the Tokyo Olympics in the 71kg (middleweight), which is not featured in Hangzhou.
The 27-year-old native of Zamboanga must also reach the gold medal round to qualify for 2024 Paris Olympics.
"It's now or never," said Marcial, a silver medalist at the 2019 World Championships. (PNA)