Los Angeles, California (CNN) – A young boy fell to his death from a luxury suite at Los Angeles' Staples Center on Sunday night, according to a spokesman for the Los Angeles Police Department.
The boy, who was between 2 and 3 years old, fell from the suite around 10 p.m. local time, Sgt. Frank Alvelais told CNN. The boy was transported to the USC Medical Center, where he later died, Alvelais said.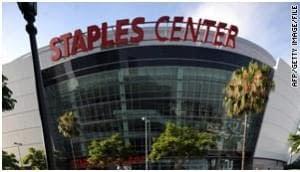 The boy fell from the suite a few minutes after the conclusion of a NBA game between the Los Angles Lakers and the Golden State Warriors, CNN affiliate KTLA-TV reported.
The third deck of the Staples Center – where the luxury suite is located – has a roughly 50-foot drop, according to KTLA.
Witness said the boy was still moving his legs and arms as he was being put on a stretcher, KTLA reported.
Authorities are investigating details of what the boy was doing and how exactly he fell, Alvelais said. The boy's name has not been released.