By Priam Nepomuceno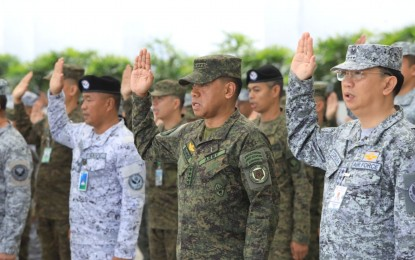 MANILA – Armed Forces of the Philippines (AFP) chief Gen. Romeo Brawner Jr. on Monday urged military personnel to be more vigilant in cyberspace to protect the youth from any radicalization attempts by communist insurgents.
He said this is in line with Republic Act 11188 or the Special Protection of Children in Situations of Armed Conflict in calling for enhanced capabilities and operations in cyberspace.
"With our focused military operations, we are confident that the continuous eradication of the communist terrorist groups will soon result in total victory and peace in our land. However, the enemies no longer stay in the highlands but are now emerging through cyberspace – radicalizing our youth," Brawner said in a statement.
The AFP chief also urged pertinent military units to beef up their cyberspace capabilities to defend against this threat.
One such unit is the AFP Cyber Group also known as AFPCyG which celebrated its fifth founding anniversary last June.
The AFPCyG is also responsible for providing situational awareness and actionable intelligence for military and decision-makers aside and cyberspace operations.
"I encourage you to stay vigilant, strengthen our cyberspace capabilities, and further synchronize our operations within cyberspace realms," Brawner said.
The AFP chief earlier led the oath-taking ceremony of military personnel in Camp Aguinaldo, Quezon City in observance of the International Humanitarian Law (IHL) Month which kicked off on Monday.
Incidentally, the country will also join the observance of IHL on Aug. 12.
"IHL is an essential part of the fabric of our society. It is a reminder that certain rules must be respected even amidst war. At this point, allow me to take this opportunity to thank and congratulate all of you for protecting our countrymen, especially during our combat operations. We, the AFP, are always committed to upholding these rules, and we will continue to do so in the years to come," Brawner said.
This year's celebration is themed "IHL: Gabay sa Makataong Pagsulong ng Kapayapaan," which highlights the continuous and essential significance of IHL in promoting peace and protecting the rights and dignity of individuals impacted by armed conflicts.
"On behalf of the AFP, I join the whole nation in commemorating the IHL this month of August. The soldiers, airmen, sailors, marines, and civilian human resources of the AFP reiterate our pledge and commitment towards the promotion of and adherence to the provisions of the International Humanitarian Law," Brawner added. (PNA)