By Jean Malanum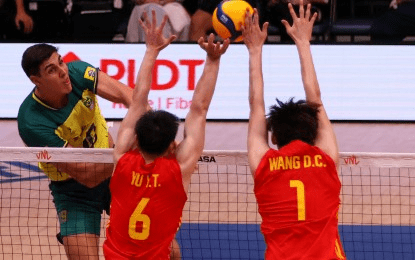 MANILA — Felipe Moreira Roque came up with a brilliant performance in leading Brazil to a 25-19, 25-17, 25-17 victory over China on the penultimate day of the Men's Volleyball Nations League (VNL) Week 3 at the Mall of Asia Arena in Pasay City on Saturday.
The 6-foot-9 opposite hitter, who plays for Vôlei Taubaté Club back home, had 12 attacks, four blocks, and an ace as the world No. 4 Brazilians wrapped up their campaign in the preliminary round with an 8-4 win-loss record and assured themselves of a spot in the eight-team final round scheduled in Poland on July 19-24.
Otavio Henrique Pinto had 11 points while Ricardo Lucarelli Souza and Adriano Cavalcante contributed eight and seven points, respectively.
"We have to improve. We have one week to prepare and to practice a lot. I think our counterattack has to be better. It's something we didn't do well this week but today was better," captain Bruno Mossa Rezende said after the 66-minute match.
Bin Wang finished with 11 points and Jingyin Zhang chipped in nine points for China, which is at the bottom of the 16-team VNL with a 2-9 card.
China faces Canada at 11 a.m. in the first of three matches scheduled on Sunday.
Slovenia battles the Netherlands at 3 p.m. while Poland meets Japan at 7 p.m.
The Philippine leg of the VNL is organized by the International Volleyball Federation (FIVB) and Volleyball World. (PNA)