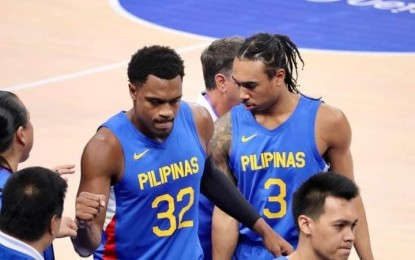 MANILA – Justin Brownlee, a member of the Philippine men's basketball team, failed a doping test in the Hangzhou, China Asian Games, the International Testing Agency (ITA) announced Friday night.
The ITA is mandated by the Olympic Council of Asia (OCA) to independently handle areas of the anti-doping program at the Asian Games, including results management.
Brownlee's sample was collected by the ITA during an in-competition anti-doping control on Oct. 7, a day after the Philippines' 70-60 win over Jordan in the gold-medal game.
It was the country's first Asiad basketball gold in 61 years.
"The Sample Collection Authority was the China Anti-Doping Agency," the ITA said in an official statement posted on website ita.sport.
"A sample collected from basketball player Justin Brownlee from the Philippines has returned an Adverse Analytical Finding for Carboxy-THC, a specified Prohibited Substance, according to the Prohibited List of the World Anti-Doping Agency (WADA)," the ITA said.
"The athlete has been informed of the case. He has the right to request the analysis of the B-samples."
The matter will be referred to the Anti-Doping Division of the Court of Arbitration for Sport for adjudication under the OCA Anti-Doping Rules, according to the ITA.
Similarly, "a sample collected from basketball player Sami Bzai from Jordan has returned an Adverse Analytical Finding for dehydrochloromethyl-testosterone metabolite, a non-specified Prohibited Substance."
The three categories of the WADA prohibited list are substances and methods that are prohibited at all times, both in-competition and out of competition; prohibited only during the in-competition period; and prohibited only in certain sports.
International Federations define in-competition as the period "commencing at 11:59 p.m. on the day before a competition in which the athlete is scheduled to participate through to the end of such competition and the sample collection process related to such competition."
Overall, the Philippines placed 17th in the Asiad with a 4-2-12 gold-silver-bronze tally.
There was no statement yet from the Hangzhou Asian Games Organizing Committee on the implications, if any, of the failed doping tests on the final results.
So far, 10 Asiad athletes have tested positive for banned substances, including another Filipino, cyclist Ariana Thea Patrice Dormitorio.
Dormitorio was tested on Sept. 24 and the results showed "Adverse Analytical Findings for the non-specified prohibited substance erythropoietin (EPO)."
"The ITA wishes to clarify that some of the cases may not be final and may be in dispute before the Court of Arbitration for Sport," the body stated.
In 2018, Kiefer Ravena was suspended for 18 months by the world basketball federation FIBA after testing positive for three banned substances, which he said were from a pre-workout beverage he carelessly drank.
The Philippines was playing in the second window of the Fiba World Cup Asian qualifiers at the time. (PNA)