By Priam Nepomuceno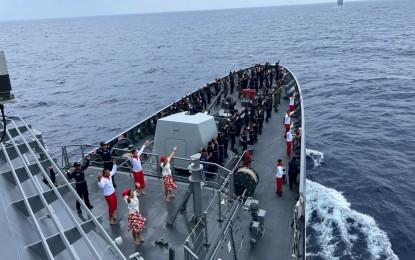 MANILA – The Philippine Navy's missile frigate ended its participation in the two-day at-sea-phase of the inaugural ASEAN (Association of Southeast Asian Nations)-India Maritime Exercise (AIME) in the South China Sea (SCS) on May 8.
"The Jose Rizal class frigate's crew and ship riders gathered at her forecastle and manned the rail as an honor and courtesy to the fellow participant ships from ASEAN member states and India. Filipino sailors merrily danced to the tune of the song 'Pinoy Ako' while the activity (was) ongoing," Ensign Menoel R. Orpilla, the Navy public affairs office chief aboard BRP Antonio Luna, said in a statement Wednesday.
The at-sea-phase of the AIME took place last May 7 to 8.
Orpilla said this activity "comprises numerous events involving ships, conducted with ASEAN member-states' navies and Indian Navy counterparts."
After this salute, the participating ships independently proceeded to their destinations.
Orpilla said BRP Antonio Luna is heading back to the Philippines and shifts its focus to the ASEAN Fleet Review on May 11 which will be participated by ASEAN navies, and the second iteration of ASEAN Multilateral Naval Exercise, to open at Subic, Zambales on May 12.
"These activities aim to fortify the Philippine Navy's commitment to partnerships and cooperation with international Navy counterparts," he added.
This year's AIME took place from May 2 to 8. The BRP Antonio Luna arrived in Singapore last May 1.
"As the PN enjoys the influx of modern assets, its participation in this international exercise will sharpen the skills of its personnel. Likewise, it reiterates the PN's (Philippine Navy) steadfast commitment to promoting regional peace and stability with its counterparts from the ASEAN and Indian navies," Navy spokesperson Capt. Benjo Negranza earlier said. (PNA)