LOS ANGELES, December 20, 2010 (AFP) – A huge Pacific storm has drenched normally sunny southern California triggering floods that forced 2,000 people from their homes, as record snowfalls hit regional ski resorts, weather officials said.
Monday marked the third consecutive day of the highly unusual weather pattern that arrives just once every 10 years or so – although rarely as dramatically as it has this year.
Heavy snows, rain, winds and lower-than-usual temperatures have buffeted the western United States throughout the weekend, hitting Oregon and California especially hard.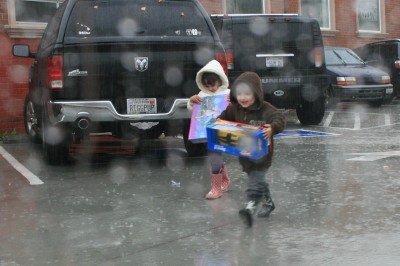 Over the past few days, Los Angeles has been inundated with 9.5 centimeters (3.75 inches) – about a quarter of the precipitation it gets in a typical year. The wet weather system broke rainfall totals across even usually arid parts of the Golden State.
In farm-rich central California, floods forced 2,000 people from their homes in Kern county, the local fire department reported in a statement.
Downtown Los Angeles on got 5.8 centimeters (2.3 inches) of precipitation on Sunday alone, shattering a nearly 90-year-old record. The cities of Pasadena and San Gabriel each got more than 7.6 centimeters (3.0 inches) of rainfall, with more expected later Monday.
Accuweather.com reported that new storms later Monday could add another three to five inches of rain, with rainfall accumulations totaling as much as seven inches along the California coast and up to 25 centimeters (10 inches) in the foothill and mountains.
National Weather Service also warned that a new storm would "bring heavy rain and the potential for serious flooding between late Monday through Wednesday afternoon."
Los Angeles already has been beset by flooding, where inhabitants were forced over the weekend to wade through knee-high waters in some areas, while rivers of mud cascaded by the city's famed Hollywood Hills.
The massive cascades of water led to power outages across Southern California, mudslides and rock slides in the area's scenic foothills, and closure of parts of the famed Pacific Coast Highway.
There was jubilation in the northernmost regions of the state however, where massive amounts of snow created a skiers' paradise, dumping 3.8 meters (12.5 feet) of snow on the state's popular Mammoth Mountain.
The warm, subtropical weather fronts arriving in rapid succession have been caused by a weakening region of high pressure over the central Pacific Ocean that normally deflects storms away from California and into Oregon and Washington.
Accuweather said the storm will rapidly traverse the United States, through the Rocky Mountains, and could likely reach the heartland city of Minneapolis, Minnesota in time to dump as much as six inches on a professional American football game between the Minnesota Vikings and the Chicago Bears.
That game was already scuttled last week by a heavy snow that caused the roof to cave in at the Metrodome stadium in Minneapolis.
Meanwhile, Colorado – a main snow resort center – was expected to get as much as one meter (3.0 feet) of snow by midweek in high elevations, while winds were expected to kick up to 70 kilometers (45 miles) per hour.
The snow was likely to reach the US East Coast by week's end, dumping significant snows on New York, Boston and Philadelphia just as choirs strike up the first holiday choruses of "I'm dreaming of a White Christmas."