By Joyce Ann L. Rocamora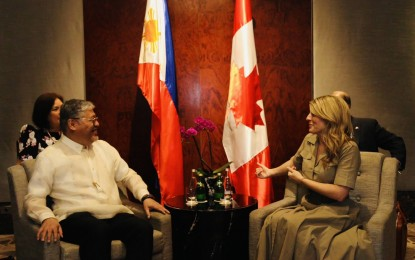 MANILA – Canada and the Philippines are looking to hold regular consultations at a foreign ministers-level, the Department of Foreign Affairs (DFA) disclosed Friday, reflecting the continuously improving relations between the two states.
The announcement was made following the bilateral meeting between Foreign Affairs Secretary Enrique Manalo and his Canadian counterpart Foreign Minister Mélanie Joly in Makati City.
The DFA did not provide details but said both ministers "considered holding regular meetings at Foreign Minister level".
During the visit, Manalo and Joly agreed to elevate existing bilateral cooperation across socio-economic, political and security sectors and launch new initiatives, focused specifically on climate action and climate transition financing.
Both also highlighted the "positive momentum" of official exchanges on matters such as maritime security, marine environmental protection, and sustainable fisheries.
"This meeting marks the fourth visit of a Minister from Canada during the administration of President Ferdinand R. Marcos Jr. I am pleased to see our relations return to a high point, and I am keen on possibly reciprocating with high-level visits of our own to Canada, which is timely given the fact that we are about to celebrate the 75th anniversary of Philippines-Canada bilateral relations next year," Joly said.
In addition, both officials cited the vibrant people-to-people ties between the two nations through tourists, migrants, and scholars in Canada, which is home to close to a million people of Filipino descent.
The DFA said the two countries will convene the 6th Joint Commission for Bilateral Cooperation (JCBC) meeting in October 2023, a senior officials-level dialogue that will set the priorities and further elevate the scope and scale of Ottawa-Manila relationship in the 21st century.
The last JCBC was held in March 2021 less than two years since the matter of about 1,500 tonnes of rubbish that originated from Canada was resolved in 2019, an issue that previously triggered the Philippines to recall its envoy and consuls to Canada.
'A secure Indo-Pacific'
Ottawa and Manila are likewise ready to take "concrete and comprehensive steps" to further reinforce their relationship, particularly on ways to promote peace and stability in the Indo-Pacific.
Welcoming Manila's and the Association of Southeast Asian Nations' part in the CAD2.3 billion Canadian Indo-Pacific Strategy, Manalo hoped the policy would contribute to a more secure, stable and prosperous region.
"The Philippines and Canada agree on the need to promote the rule of law in the South China Sea, to safeguard freedom of navigation and overflight, promote the peaceful resolution of disputes and preserve marine ecosystem, in accordance with the 1982 UN Convention on the Law of the Sea and the 2016 Arbitral Award on the South China Sea," the DFA said.
Both ministers also affirmed the importance of placing the ASEAN at the center of the security architecture in the region.
They looked forward to the launch of the ASEAN-Canada Strategic Partnership at the ASEAN-Canada Summit later this year.
Also discussed during the meeting were several regional and global issues of mutual concern, including developments in the Taiwan Straits, the Korean Peninsula and Ukraine. (PNA)