By Joyce Ann L. Rocamora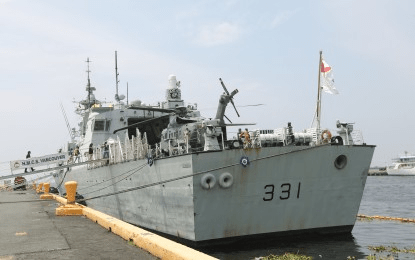 MANILA – The Canadian Navy frigate HMCS Vancouver has arrived in the Philippines to participate in the military drills between the Philippines and the United States next week.
Commander Meghan Coates, commanding officer of the HMCS Vancouver, said this is the first time for Canada to join the Exercise Samasama.
The HMCS docked in Manila on Friday.
"Vancouver's participation in 'Samasama' is to promote regional security cooperation, maintain and strengthen maritime partnerships, and enhance maritime interoperability," Coates said at a press conference aboard the warship on Saturday.
"We are honored by the opportunity to participate in this complex exercise, highlighting the collaboration between like-minded partners, training and real-world environments."
The Canadian Armed Forces members, she said, would participate in the medical, legal, women, peace, and security activities during the drill's shore phase.
The vessel's sea phase participation, on the other hand, will focus on partner building, maritime domain awareness, search and rescue, and humanitarian and disaster relief operations, among others.
Coates said this participation reflects Canada's commitment to increasing its engagement with regional partners and keeping the Indo-Pacific stable.
The HMCS Vancouver is the third Royal Canadian Navy ship to visit the Philippines this year after the HMCS Ottawa and Naval Replenishment Unit MV Asterix.
This is also Vancouver's second deployment to the Philippines after a port visit in 2022.
"Samasama," scheduled from Oct. 2 to 13, is a bilateral exercise between the United States Navy and the Philippine Navy to boost the latter's warfare capabilities for maritime security operations.
Apart from Canada, the drills also involve Japan, Australia, France, and the United Kingdom through subject-matter expert exchanges (SMEEs) and humanitarian assistance and disaster response (HADR) tabletop events.
Indonesia and New Zealand will send observers.
Canadian Ambassador David Hartman said Canada's "augmented presence" in the region is a result of its 2022 Indo-Pacific Strategy (IPS), which places the Philippines as a core partner.
"The physical manifestation of having three of our naval vessels here in the last two weeks is a very concrete illustration of our commitment to the Philippines, our commitment to our regional partners," he said.
Canada's non-resident Defense Attaché to the Philippines, Col. Stewart Taylor, said Ottawa would increase its vessels in the region and join more naval exercises similar to "Samasama" in the future.
"We have a very friendly relationship that continues to grow. And the IPS really gives us the impetus and the resources that we need to bring it to the next level," he added.
Starting Oct. 1, the Embassy said Canada would also post a permanent defense attaché in the Philippines. (PNA)