MANILA, November 25, 2010 (AFP) – Cash-strapped ex-Philippine president Joseph Estrada is hoping to sell his luxury house for nearly seven million dollars so he can pursue real estate interests, a senior aide said Thursday.
The 73-year-old, detained for six years and convicted of plundering state coffers before winning a pardon in 2007, plans to move into a high-rise condominium with his wife, senior staff member Ferdie Ramos told AFP.
"The reality is that he is jobless and he lost the election. All their children have grown up and moved out and it's just him and his wife at the big house," Ramos said.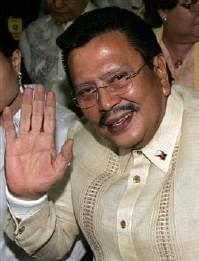 "The property is quite expensive to maintain so they will just transfer to a condo that he owns."
The property, situated in a leafy, gated enclave in Manila's San Juan district, is a 3,000 square-metre (0.74-acre) spread with four buildings, including a clubhouse where visitors are put up.
Ramos said Estrada, who announced his retirement from politics after finishing second in the May national elections, hopes to raise 300 million pesos (6.82 million dollars) for the house.
He will use the money to pursue his real estate business, according to Ramos.
Estrada has put up two high-rise residential condominium buildings and plans to build a third soon, Ramos said.
A former action movie star, Estrada parlayed his fame into political success and in 1998 won the presidency by a landslide.
He was ousted by a military-backed popular revolt 30 months into his six-year term over accusations of widespread corruption.
In 2007, following a six-year trial, an anti-graft court found him guilty of plundering 80 million dollars during his stint as president, and sentenced him to life in jail.
State prosecutors said the haul came from tobacco taxes intended for farmers as well as for kickbacks from illegal lotteries popular among the poor people whom Estrada championed in public.
The woman who replaced him as president, Gloria Arroyo, quickly pardoned him. To this day he denies the charges.
He sought personal redemption in the May presidential race and his strong showing, finishing only behind landslide winner Benigno Aquino, showed he remained hugely popular among the poor.
cgm/kma/ft