By Ferdinand Patinio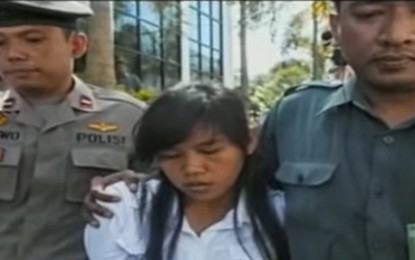 MANILA – The Catholic Bishops' Conference of the Philippines – Episcopal Commission for the Pastoral Care of Migrants and Itinerant People (CBCP-ECMI) has joined calls for the Indonesian government to pardon Filipina drug convict Mary Jane Veloso.
"Let us pray hard that, in the name of mercy, the Indonesian government would grant clemency to Mary Jane Veloso. May our almighty God touch the hearts of those people and decide what is beneficial and do what is best for MJ (Mary Jane)," CBCP-ECMI vice chair and incoming Antipolo Bishop Ruperto Santos said in a phone interview on Tuesday.
The Catholic prelate noted that the Indonesian government should also take into account her current health condition.
"She has suffered long enough with her imprisonment. And with her health problem, she should be much attended to, medical care and charitable measures given," Santos said.
He added that they are praying for Veloso's good health.
"We pray for her recovery. We offer our prayers for her healing," he said.
In 2010, Veloso was caught smuggling heroin upon her arrival in Indonesia and was sentenced to death by firing squad.
She was given a reprieve in 2015 after one of her recruiters surrendered to Philippine authorities and admitted to duping her into smuggling illegal drugs.
In May, President Ferdinand R. Marcos Jr. personally asked Indonesian President Joko Widodo to review Veloso's case.
Her family renewed calls for her release due to health problems while in jail.
Veloso's family disclosed that she has been suffering from a persistent cough while doctors diagnosed that her ovarian cyst has recurred.
The Department of Migrant Workers said it is closely coordinating with the Department of Foreign Affairs and the Philippine Embassy in Jakarta to ensure that Veloso is getting proper medical attention. (PNA)