By Nanette Guadalquiver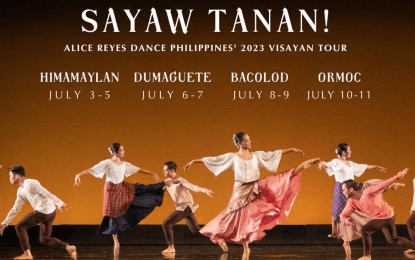 BACOLOD CITY – The Cultural Center of the Philippines (CCP) is holding dance workshops in five cities across the Visayas, including Bacolod and two other cities in Negros Occidental, this July.
Dubbed Sayaw Tanan: Alice Reyes Dance Philippines' (ARDP) 2023 Visayan Tour, the event kicked off on Monday in Himamaylan City in southern Negros for three-day workshops and performances until July 5.
Mayor Rogelio Raymund Tongson and Vice Mayor Justin Gatuslao welcomed National Artist for Dance Alice Reyes and artists from the ARDP and the CCP's Professional Artist Support Program during their arrival in the province on Sunday.
"Experience the beauty, grace, and diversity of dance as we showcase our rich cultural heritage through 'Sayaw Tanan.' This tour is a celebration of the arts and a tribute to the exceptional talent found in our community," Tongson said in a statement.
On July 6 and 7, the tour goes to Dumaguete City in Negros Oriental and will return to Negros Occidental on July 8 and 9 for the workshops in the cities of Victorias and Bacolod, respectively.
The final leg will be held in Ormoc City, Leyte on July 10 and 11.
Reyes, the ARDP artistic consultant, leads the Filipino dance company's objective of focusing on dance education by bringing the gift of dance all over the country and fostering the creation of Filipino choreography with local culture, organizers said.
The ARDP has so far, conducted more than 2,500 classes and created more than 40 extension educational materials on dance covering classical ballet, modern and contemporary dance, jazz and hip-hop. (PNA)