BOSTON (AP) – LeBron James and the Miami Heat could not win in Boston in the regular season. And now they may have to do it in the playoffs. Rajon Rondo had a triple-double, and James missed a crucial free throw with 12.5 seconds left in the Celtics' 85-82 victory over Miami on Sunday. Boston improved to 3-0 against the Heat this season, taking back the top spot in the East and clinching the potential tie breaker for home-court advantage in the playoffs.
The teams will play again in Miami on April 10.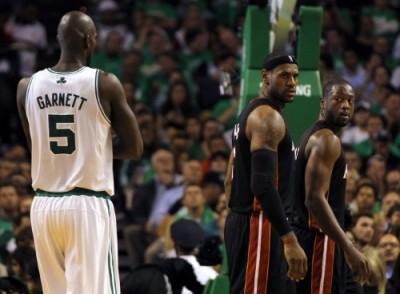 "They are the defending Eastern Conference champions," Heat Coach Erik Spoelstra said. "You have to go through them, and they ain't going to make it easy. We understand that this isn't going to be an easy ride for us, and that's where we're at our best."
The Heat eliminated most of a 13-point fourth-quarter deficit and trailed by 83-81 with 19 seconds left when they brought the ball in from a timeout and got it to James at the top of the key. He drove on Paul Pierce and drew a foul. He missed the first free throw and made the second.
On the ensuing inbound pass, James went into the stands for the ball but merely knocked it to Ray Allen; the Celtics got the ball downcourt to Glen Davis, who was fouled. Davis hit both foul shots with 6.3 seconds to go, and Mike Miller missed a 3-point attempt in the final seconds that would have sent the game to overtime.
"They're going to be a different team in March and April, the more important months, when we'll probably have to see them again," said Pierce, who was 0-for-10 from the field and scored only 1 point.
The Celtics have won 12 of the last 13 against Miami, including a 4-1 series victory in the first round of last year's playoffs; they then knocked James and Cleveland out in the next round. James fled to Miami, but the Heat still has not been able to beat Boston.
"This is classic, typical bigger brothers," Dwyane Wade said. "You've got to get over the hump."
Chris Bosh scored 24 with 10 rebounds and James had 22 points for Miami, which had won eight in a row. Boston snapped a two-game losing streak.
Pierce, who had his lowest scoring total since 1999, said afterward he was bothered by hand and foot injuries and would have a magnetic resonance imaging test on his left foot Monday.