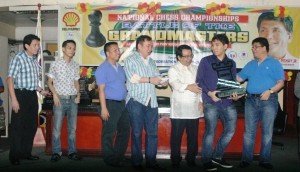 MANILA, July (PNA) – Grandmaster Joseph Sanchez, International Masters Richard Bitoon and Kim Steven Yap lead a high-powered Philippine contingent that will compete in the Raja Nazrin Shah International (KL Open) Championship 2011 on September 1 to 9 at the Swiss Garden Hotel and Residences in Kuala Lumpur, Malaysia.
Sanchez, Bitoon and Yap, who hail from Cebu province, will be joined by GM Darwin Laylo of Marikina City, IM Rolando Nolte of Quezon City, IM Oliver Dimakiling of Davao City, NM Nelson Villanueva of Bacolod City, NM Edgar Reggie Olay of Davao City and NM Rustom Tolentino of Cagayan de Oro City.
"I will do my very best for flag and country," said the Medellin, Cebu native Bitoon, who is seeking his third and final GM result/norm here.
Bitoon got his first norm during the 2008 Singapore International Open. The former Southwestern University stalwart earned his second GM norm during the just concluded National Championships: 4th Battle of the Grandmasters at the National Press Club in Intramuros, Manila last Saturday.
The championship purse is RM 10,000.
The 4th KL International Open Chess Championship for the Raja Nazrin Shah Challenge Trophy is sponsored by the Masterskill Education Group Berhad and organized by Polgar Chess Asia for the Kuala Lumpur Chess Association (KLCA) under the auspices of the Malaysian Chess Federation (MCF) and is registered and recognized by the World Chess Federation (FIDE) as an international title and rated tournament.
Top woodpushers GM Wesley So and GM Mark Paragua will not compete in the tournament. So and Paragua are scheduled to compete in the 2011 World Cup (formerly FIDE World Chess Championships) on August 26 to September 21 in Khanty-Mansiysk, Russia.
IM Oliver Barbosa of Taytay, Rizal is invited to play in the Raja Nazrin Sha Invitational Masters Championships (round-robin tournament) at the same venue.
Barbosa took his first GM result in the 10th Asian Continental Individual Chess Championships in Mashhad, Iran last May. He claimed his second GM result in the 4th Battle of the Grandmasters.
"The NCFP is fielding a strong, talent-laden players to the 4th KL International Open Chess Championship as part of our program to improve our standings in the world chess hierarchy," said National Chess Federation of the Philippines (NCFP) chairman/president Prospero "Butch" Pichay Jr. ■