By Priam Nepomuceno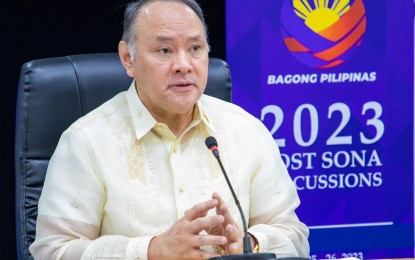 MANILA – Department of National Defense (DND) Secretary Gilberto Teodoro Jr. on Thursday denied claims that the United States' presence in the Philippines is escalating tensions in the region.
In an interview with ABS-CBN News Channel (ANC), Teodoro said it is actually China's "expansionist policy" that heightens tensions.
"Actually, in terms of the Philippines, I respectfully disagree, it is the expansionist policy of China that is actually escalating the tensions not only between us but with Vietnam and other actors and their 10-dash line actually is the best proof that they want to escalate tensions within the area," he added.
Teodoro said the real issue right now is the harassment activities by China because they do not recognize the country's 200-nautical mile exclusive economic zone.
"They do not recognize our other claims, so we are not trying to contain China but enforcing international law which is on our side. Now China keeps on saying that we are containing them, if you use the word contain that means to say you have an intention to expand, so it's disingenuous for them to use that term for me," the DND chief noted.
Teodoro also said the Aug. 5 water cannoning incident by the Chinese Coast Guard against Filipino resupply boats and their escorts in the Ayungin Shoal highlights that the Philippines is not depending much on the US.
"The water cannoning proves that we are not leaning too much on the US because if we lean too much on the US. We would have asked them to escort us there which we don't want to do because we want to do things our way and we want a balanced foreign policy. We really need, of course, the first priority is their resolve to stick to our rights under international law," he added.
Teodoro also said the Philippines is willing to engage with China as long as there is a "framework for proper engagement and that is international law." (PNA)