By Joyce Ann L. Rocamora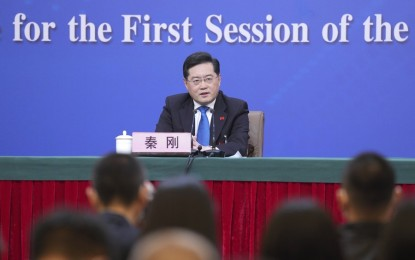 MANILA – Chinese State Councilor and Foreign Minister Qin Gang is flying to Manila for an official visit on April 21 to 23, the Department of Foreign Affairs (DFA) confirmed Tuesday.
The trip is upon the invitation of DFA Secretary Enrique Manalo.
The two officials will exchange views on the outcomes of the Philippines-China Foreign Ministry Consultations and Bilateral Consultations Mechanism on the South China Sea that were held back-to-back in Manila in March.
The DFA said discussions would also cover the implementation of agreements reached at the highest levels during the meeting between President Ferdinand R. Marcos Jr. and Chinese President Xi Jinping on Jan. 4.
"In particular, both sides will discuss increasing and strengthening cooperation in the fields of agriculture, trade, energy, infrastructure, and people-to-people relations, among others," the DFA said in a statement.
Earlier, Manalo confirmed that Manila and Beijing will initiate "exploratory" talks in May for the possible resumption of negotiations on oil and gas development in the South China Sea.
Apart from energy, the two ministers will discuss regional security issues of mutual concern, said the DFA.
The visit comes as China repeatedly aired concerns over Manila's decision to grant more access to American troops with five new locations under the Enhanced Defense Cooperation Agreement (EDCA).
China's top diplomat in Manila, Huang Xilian, drew criticisms after he claimed that the United States intends to take advantage of the EDCA sites to interfere in the Taiwan Strait situation.
Huang "advised" Manila to oppose "Taiwan independence" if it genuinely cares about the 150,000 Filipinos working there.
It will be Qin's his first official engagement with the Philippines since his appointment as both Foreign Minister and State Councilor in December 2022 and March 2023, respectively. (PNA)