By Priam Nepomuceno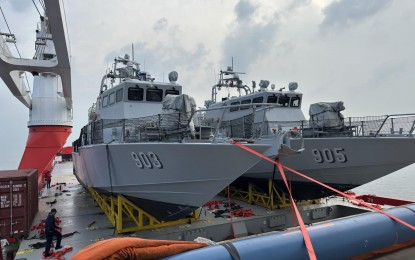 MANILA – The Philippine Navy (PN) announced that it will be conducting a christening ceremony for the two newly delivered fast attack interdiction craft-missile (FAIC-Ms) on May 8.
In an advisory to reporters Thursday, Navy spokesperson Capt. Benjo Negranza said the event will be held at Naval Station Pascual Ledesma, Fort San Felipe, Cavite City at 9 a.m.
These FAIC-Ms will be christened BRP Gener Tinangag (PG-903) and BRP Domingo Deluana (PG-905).
The namesake of these ships were both Marine personnel who were awarded the Medal of Valor, the highest military decoration for courage, bravery and self sacrifice above and beyond the call of duty. Both men died on the battlefield.
Aside from the christening rites, the PN will also hold a blessing ceremony for its Naval Shipbuilding Center which is also located at the same facility.
The guest-of-honor and speaker for these events will be Senate President Juan Miguel Zubiri. These two ships were delivered to the Philippines last April 11.
"Said FAIC-Ms, which are part of the nine platforms contracted with Israel Shipyards, arrived from Israel on board the general cargo ship M/V Mick. They were unloaded with the assistance of BRP Mamanwa (LC-294) and proceeded to the naval shipyard in Cavite for a series of tests and crew training," Negranza earlier said.
These FAIC-Ms will soon join the Acero-class patrol gunboats along with frontrunners BRP Nestor Acero (PG-901) and BRP Lolinato To-ong (PG-902) which were commissioned last November.
"They are a welcome addition to the Navy's capability to secure vital choke points, key sea lines of communication, and littoral areas of the country," Negranza said. Five more are expected to be delivered within the next two years.
The 32-meter long FAIC-Ms are high-speed vessels equipped with quick intercept ability, remote stabilized weapons, and short-range missiles that are capable of delivering precision strikes against larger hostiles and high-value targets on land and sea.
Four of the FAIC-Ms will be armed with non-line-of-sight (NLOS) missiles with pinpoint accuracy and a range of 25 kilometers while the other five will be armed with Typhoon-mounted 30mm main cannons and .50 caliber heavy machine guns.
The acquisition of these FAIC-Ms is among the 2019 projects approved by former President Rodrigo Duterte under the Horizon 2 List of the Armed Forces of the Philippines Modernization Program.
The notice of award for the FAIC-M project, worth around PHP10 billion, was issued on Jan. 5, 2021. These are expected to replace PN's medium-sized patrol craft.
Once deliveries of the FAIC-Ms are completed, these vessels can interdict surface threats and launch NLOS missiles safely using the surrounding littoral areas as maneuver space and cover.
Earlier, PN chief Vice Adm. Toribio Adaci Jr. said the Navy is planning to acquire at least 15 more Israel-made Shaldag Mark V missile boats, which are the basis of its Acero-class patrol gunboats.
He said the additional Acero-class gunboats would help them to meet their requirements in "patrolling the seas of the country".
Adaci also said the FAIC-Ms will be assigned to the Littoral Combat Force. (PNA)