By Ferdinand Patinio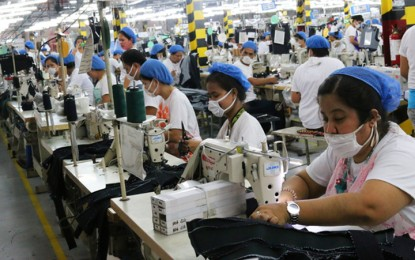 MANILA – The Church People-Workers Solidarity (CWS), an ecumenical organization in support of workers' rights and welfare, supports the call of workers for salary adjustments.
In a statement, CWS chairperson Bishop Gerardo Alminaza of the Diocese of San Carlos in Negros Occidentl said Friday that workers' demand for living wages is just and legitimate amid the rising inflation rate.
"CWS strongly emphasizes the justness, urgency, and doability of living wage in the midst of economic hardships," he said. "Therefore, CWS supports the clamor of labor unions in the country for substantial wage increase."
Alminaza noted that the rising cost of living and the insufficient wage are forcing workers to work more than 12 hours a day for an extra income to provide for their family.
"Based on dignity, workers have a legitimate claim to those essential material goods that meet basic needs for food, clothing, shelter, health, education, security, and rest," Alminaza said.
He added that the approval of salary hikes is feasible since there are pending measures for wage increase and pending petitions for salary adjustments.
"We support bills filed by lawmakers for a substantial wage increase. CWS also supports initiatives by progressive labor groups to demand for wage increase," Alminaza said.
The decision to issue new wage orders is under the jurisdiction of Regional Tripartite Wages and Productivity Boards under the Department of Labor and Employment.
In Metro Manila, the Kapatiran ng mga Unyon at Samahang Manggagawa is asking for a PHP100-wage adjustment while the Unity for Wage Increase Now is seeking an increase of PHP571.
In Calabarzon, the Organisasyon ng mga Manggagawa sa EMI and the Metal Workers Alliance of the Philippines want salary adjustments of PHP100 and PHP280, respectively; the United Labor-Western Visayas and the Iloilo Pepsi Cola Workers Independent Union are asking an increase of PHP100 in separate petitions; and in Central Visayas, Cebu Labor Coalition and the Partido Manggagawa have petitioned for an increase of PHPP292.50 and PHP100, respectively.

All set for NegOr Labor Day caravan
Meanwhile, all is set for a massive celebration of Labor Day on May 1 in Negros Oriental with several activities highlighting the occasion, an official of the Department of Labor and Employment (DOLE) here said Friday.
Ma. Teresa Tanquiamco, DOLE-Negros Oriental provincial director, told the Philippine News Agency that several activities are lined up for the celebration in cooperation with various government agencies.
These include a local and overseas jobs fair, KADIWA (Kadiwa sa Pangulo Para sa Manggagawa), Diskwento Caravan, TUPAD (Tulong Panghanapbuhay Sa Ating Disadvantaged/Displaced Workers) program payout, business and wellness coaching, sports, and raffle/door prizes, among others.
A motorcade will signal the start of the whole-day activity in Dumaguete city, to be followed by the Labor Day commemorative program at the Lamberto Macias Sports Center.
The theme for this year's Labor Day celebration is "Pabahay, Bilihin Abot Presyo, Benepisyo ng Matatag na Trabaho Para sa Manggagawang Pilipino". (With a report from Mary Judaline Partlow, PNA)