By Izza Reynoso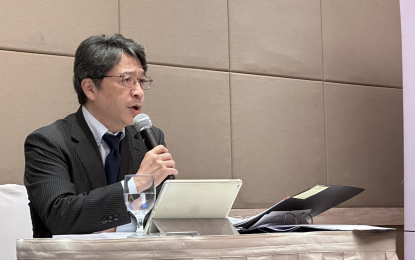 PUERTO PRINCESA, Palawan – The Japanese government is searching for descendants of Japanese soldiers stationed in this province during World War II to offer them citizenship.
Hanada Takahiro, Minister and Consul General of the Japanese Embassy in the Philippines, visited Palawan on Tuesday to locate more descendants called "Nikkei-jins".
In an interview on Wednesday, Marguerette Lumauag, president of the Palawan Nikkei-jins organization, said 12 have already obtained Japanese citizenships while five residents of the distant municipality of Linapacan in Northern Palawan await their documents.
"The Nikkei families that remain waiting are in Linapacan. They are what Minister Hanada wants to visit because he wants to personally interview them," she noted.
Lumauag called on local Nikkei-jins to prepare all the documents needed to prove their lineage in preparation for interviews by officials at the Japanese Embassy.
In a press briefing on Tuesday afternoon, Hanada said that during the Japanese military occupation, many Imperial Army soldiers married Filipino women to gain valuable local knowledge and skills.
As Japan's fortunes in the war turned, many fathers of Nikkei-jins lost their lives, but a few managed to survive and were eventually sent back to Japan after the war, he added.
Some of the biracial offspring became orphans but most remained in the Philippines with their Filipino mothers.
Hanada said some Nikkei-jins concealed their true identities during the immediate post-war period to avoid possible persecution.
He also said he wanted to offer humanitarian aid to Nikkei-jins in need but have not yet been recognized or identified because they are residing in remote areas in Palawan.
The diplomat said his government is ready to help in their application journeys as long as they make themselves known and allow themselves to be assisted by the Philippine Nikkei-jin Legal Support Center.
"The problem is we cannot identify the exact number — that is why we are asking for help to spread the information all over the Philippines, not only in Palawan. We are trying to reach out to those second-generation who might still be living in rural areas," the minister and consul general of the Embassy of Japan said.
Hanada noted that, based on their post-World War II estimates, there are more than 30,000 Nikkei-jins in the Philippines.
As of April 2023, the Japanese embassy has helped approximately 1,548 Nikkei-jins in the process of acquiring Japanese nationality.
He said they are racing against time because many of them are already in their 80s and 90s.
Hanada recalled that around 4,780 had passed away before securing Japanese citizenship.
"According to our estimation, we have approximately 400 to 500 second-generation left in the Philippines. As time goes by, to my regret, those numbers are decreasing because they passed away," he said.
Nikkei-jins, a term referring to Japanese emigrants and their descendants who have formed families and communities in host countries like the Philippines, include the wives and children of Japanese citizens who were forcibly repatriated to Japan following the war. (PNA)