MANILA, Nov 11 (Mabuhay) – Less than 24 hours after arriving in the Philippines for a speaking engagement, former United States President William Jefferson "Bill" Clinton quietly left for Singapore Thursday morning.
Clinton boarded a private Boeing 762 plane near the Ninoy Aquino International Airport (NAIA) Terminal 3, and departed past 9 a.m.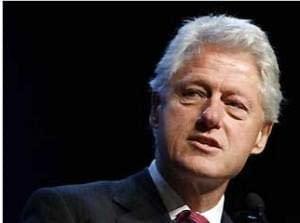 Clinton arrived at the NAIA area from the Peninsula Manila hotel in Makati City.
He arrived in Manila before noon Wednesday, amid tight security.
NAIA security personnel coordinated with the local police and the US Embassy in Manila to secure Clinton upon his arrival and during his overnight stay in the country.
Clinton paid a courtesy call on President Benigno Aquino III and gave a talk on globalization at The Manila Hotel Wednesday afternoon.
U.S. president from 1993 to 2001, Clinton delivered a lecture titled "Embracing Our Common Humanity" at the Manila Hotel at 4 p.m., attended by politicians, business executives and members of the media.
Meanwhile, Metro Manila police said the tight security during Clinton's stay showed the police can secure high-profile personalities.
Clinton's visit came on the heels of travel warnings against a possible terrorist attack on the Philippines by six countries, including the U.S.
Last Monday, President Aquino said Clinton's visit only shows that the nation remains safe for tourists.
"I would assume that [Clinton's visit] would be a vote of confidence. The former US president has a Secret Service detail still assigned to him who would object if there was a realistic and imminent terrorist threat," Aquino told reporters in Malacañang. (MNS)