By Joyce Ann L. Rocamora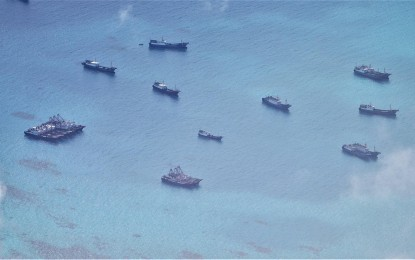 MANILA – China is ready to accelerate the conclusion of an "effective and substantive" Code of Conduct (COC) in the South China Sea, its top diplomat in Manila said on Tuesday.
Chinese Ambassador Huang Xilian said Beijing and the Association of Southeast Asian Nations (ASEAN) have resumed talks in Manila.
In a forum in Quezon City, Huang said Beijing also seeks a COC that is anchored on international law, particularly the United Nations Convention on the Law of the Sea (UNCLOS).
"China is ready to work with ASEAN countries to accelerate the negotiation on a code of conduct at an early date. And we hope that we can strive to reach a regional norm that is effective, substantive, and in line with international law, including the UNCLOS," he said.
The envoy expressed optimism that China and ASEAN countries "are capable and wise enough to maintain peace and stability in the South China Sea."
READ: PH bats for UNCLOS-bases COC in South China Sea
The Philippines is hosting the 40th Meeting of the Joint Working Group on the Implementation of the Declaration on the Conduct of Parties in the South China Sea Aug. 22 to 24 in Manila.
Foreign Affairs spokesperson Ma. Teresita Daza said it is the third round of the COC negotiations this year. The first two were in Jakarta (March) and Vietnam (May).
Like China, Daza said Manila is committed to the early conclusion of an "effective and substantive" COC.
"We are negotiating a Code of Conduct precisely because we would like to prevent incidents such as the last one at the Ayungin Shoal from happening," she said in a statement Tuesday.
"We hope that all participants would come to the negotiating table in good faith and help create a conducive environment for talks."
Daza was referring to the Aug. 5 incident near Ayungin Shoal involving the Chinese Coast Guard that used water cannon against Philippine boats en route to resupply the beached BRP Sierra Madre.
Bilaterally, Beijing said it wants to conduct "dialogue and consultation" with the Philippine government to "manage the maritime situation as soon as possible."
China continues to reject the 2016 Arbitral Ruling, which explicitly stated that Ayungin Shoal is within the Philippines' 200-nautical-mile exclusive economic zone.
Ayungin Shoal is part of China's sweeping claims over the resource-rich South China Sea and is covered in its so-called nine-dash-line.
Meanwhile, Huang welcomed the appointment of former Foreign Affairs Secretary Teodoro Locsin Jr. as the Special Envoy of the President to China.
"We look forward to him continuously playing a positive role in managing the differences and boosting the bilateral ties and we're hoping that our two sides will also make full use of all existing maritime mechanisms to handle the maritime disputes in a timely manner," Huang said. (PNA)