By Wilnard Bacelonia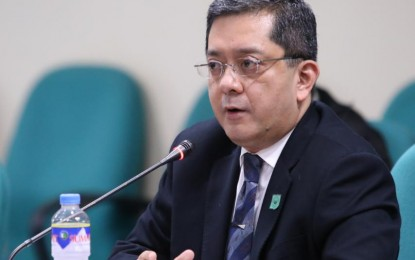 MANILA – The leadership of the Commission on Elections (Comelec) on Monday asked the help of senators to break the trend and criminalize nuisance candidates in the country.
Comelec chairperson George Garcia made the request while the Senate Committee on Public Order and Dangerous Drugs was conducting its inquiry on the murder of late Negros Oriental Governor Roel Degamo who was declared as the winner in the 2022 elections after being awarded additional votes originally obtained by a nuisance candidate bearing a similar name as him.
Garcia cited Section 69 of the Omnibus Election Code which states that the Comelec "may motu proprio or upon a verified petition of an interested party, refuse to give due course to or cancel a certificate of candidacy if it is shown that said certificate has been filed to put the election process in mockery or disrepute or to cause confusion among the voters by the similarity of the names of the registered candidates or by other circumstances or acts which clearly demonstrate that the candidate has no bona fide intention to run for the office for which the certificate of candidacy has been filed and thus prevent a faithful determination of the true will of the electorate."
"We should criminalize nuisance candidacies. Meron na pong nai-propose noong 18th Congress dito po sa inyo. Dapat po i-criminalize na yan (It was already proposed here in the 18th Congress) either imprisonment or fine, ang naging proposal po ay (the proposal was) PHP500,000, and perpetual disqualification to hold public office," he said.
If it can be proven that there is conspiracy, Garcia said everyone involved should likewise be charged, not only for misrepresentation or perjury, but also for the filing of nuisance candidacy.
"That is the only way by which we can resolve itong mga ganitong [kaso] dahil hindi matitigil ang pagpa-file (cases like these because the filing will not stop)," he added.
On Feb. 13, the Supreme Court (SC) dismissed the petitions questioning the result of the Negros Oriental gubernatorial race between Pryde Henry Teves and Roel Degamo saying "the Comelec en banc did not commit grave abuse of discretion in issuing its Resolution in SPA No. 21-085 (DC) dated September 1, 2022 in favor of Roel Degamo."
The Comelec en banc affirmed the resolution of the Second Division, which ruled Grego "Ruel" Degamo as a nuisance candidate and annulled Teves' proclamation as the provincial governor.
The votes obtained by Grego Degamo was credited in favor of Roel Degamo showing that the latter got 331,726 votes while Teves had 301,319.
On March 4, Roel Degamo was killed in broad daylight at his residence in Pamplona town.
During the 2022 elections, the Comelec recorded more than 300 nuisance candidates both in the national and local elections. (PNA)