By Ferdinand Patinio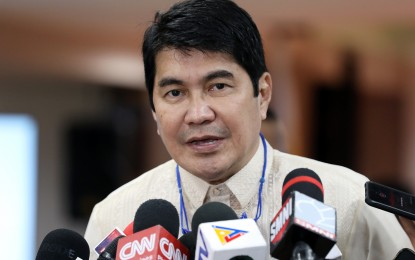 MANILA – The Commission on Elections (Comelec) Second Division junked the petition to disqualify former Department of Social Welfare and Development (DSWD) Secretary Erwin Tulfo as a nominee of the Anti-Crime and Terrorism Community Involvement and Support (ACT-CIS) Party List.
In a 15-page resolution, the poll body said the petition, which was filed on March 1, 2023, was not granted as it was filed nine months after the proclamation of the party-list organization.
Sec. 4 (b), Rule 5 of Resolution No. 9366 provides that a petition for disqualification of party-list nominees shall be filed on any day not later than the date of proclamation.
"ACT-CIS was proclaimed on May 26, 2022. Thus, any petition for disqualification of nominees of ACT-CIS should have been filed not later than May 26, 2022. Therefore, being filed on March 1, 2023, the instant Petition was filed out of time," said the decision promulgated on Thursday.
"In this case, nothing in the law and rules grant upon the Commission the jurisdiction to act on the instant petition for disqualification because the same was filed beyond the period prescribed under the rules," it added.
On the other hand, the poll body noted that they cannot discuss other issues raised in the petition for lack of jurisdiction.
"For lack of jurisdiction over this petition, it is futile for us to discuss the other issues raised in the petition. Wherefore, premises considered, the petition is dismissed for lack of jurisdiction," it said.
At the same time, Comelec chairperson George Garcia noted that the petitioner, lawyer Moises Tolentino, has five days to file an appeal.
"(The petitioner) has 5 days from today including Saturday and Sunday (to file a motion for reconsideration)," he said in a message to the media.
Asked on who has jurisdiction over the case, the poll body chief said, "(as) per the division, it's the House of Representatives Electoral Tribunal (HRET)."
He added that the petitioner can go straight to the HRET in filing an appeal.
"They can do that. But, technically there is no member of House of Representatives (HOR) yet. The Constitution, Article 6, Section 17, states that the HRET have jurisdiction over members of the HOR, meaning there should be proclamation, valid oath and assumption to office (Reyes vs Comelec, Tagolino vs HRET). In the present case, the three requisites are not there," Garcia explained.
ACT-CIS garnered 2,111,091 votes in the May 2022 National and Local Elections, the highest among all PL candidates, giving them three seats in Congress.
Tulfo was the fourth nominee in the list of nominees duly submitted to the Comelec. The first three nominees assumed office on June 30, 2022.
However, on Feb. 22, 2023, the resignation of the third nominee, Jeffrey Soriano, was accepted by the House of Representatives.
Being the next representative on the list, Section 16 of Republic Act 7491 provides that Tulfo should automatically assume the seat vacated by Soriano to serve the latter's unexpired term. (PNA)