By Stephanie Sevillano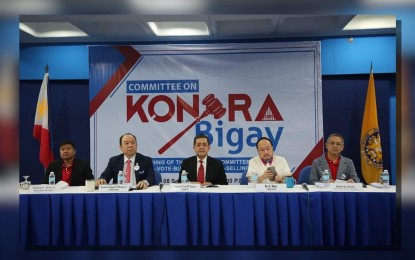 MANILA – A permanent group, not just an ad hoc committee, will now look into vote buying and selling reports ahead of the Oct. 30 Barangay and Sangguniang Kabataan Elections (BSKE).
Commission on Elections (Comelec) Commissioner Ernesto Ferdinand Maceda Jr. said poll violations will not be business as usual with the newly formed team.
"What used to be just a Task Force, an ad hoc committee in 2019, is now a standing and permanent committee of the Comelec. (It is) the only permanent committee of the Comelec dedicated to attacking what is truly an internal threat to democracy," he said during Friday's launch of the Committee on Kontra Bigay (CKB or Committee Against Giving).
Comelec Resolution No. 10946 that formed the CKB also established the Kontra-Bigay Complaint Center, which is operational from 8 a.m. to 5 p.m. until Oct. 28 and will be on 24-hour operations Oct. 29 to 31.

Prior to the CKB, there was the Comelec Task Force that oversees vote buying and selling complaints.
The public can now report complaints to the CKB through hotline numbers 02-8559-9947 or 02- 8567-4567, or through email address committe.kontrabigay@gmail.com.

Maceda said designated CKB member-government agencies also have the power to investigate, prosecute and arrest violators associated with presumed acts of vote buying and selling.
These acts include the possession and distribution of money, cards, or campaign paraphernalia that has value; long queues for distribution of discount promos, groceries, and other similar items; conduct of contests with prizes from candidates; possession or transport of cash exceeding PHP500,000 five days before the election day; and splitting of at least PHP20,000 cash into smaller denominations of PHP100s, PHP50s, or PHP20s, among others.
CKB member-agencies include the Department of Justice, Department of the Interior and Local Government, Department of Education, Department of Information and Communications Technology, Cybercrime Investigation and Coordinating Center, Philippine Information Agency, Armed Forces of the Philippines, Philippine National Police, National Bureau of Investigation, Bangko Sentral ng Pilipinas, Anti-Money Laundering Council, Public Attorney's Office, Integrated Bar of the Philippines, Philippine Association of Law Schools and accredited citizens' arms of the commission.
Violators, once proven guilty, may be sentenced to at least one year imprisonment or a maximum period of six years, Comelec officials said.
"The Committee has labored to finalize a historic mechanism and structure implementing VBVS (vote buying and vote selling) policies and guidelines. Our program is deterrence, enforcement, and prosecution," Maceda said. (PNA)