By Kris Crismundo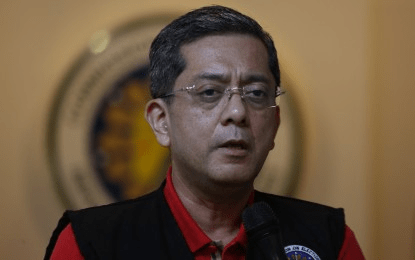 MANILA – Commission on Elections (Comelec) Chairman George Garcia on Monday said the poll body has stood to its commitment of no failure of election during the Barangay and Sangguniang Kabataan Elections (BSKE) 2023.
This is despite the many incidents of violence reported during the voting day in different polling centers across the country, especially in the Bangsamoro Autonomous Region in Muslim Mindanao (BARMM).
In a press conference at the Comelec Command Center in Intramuros, Garcia underscored the crucial role of teachers and other electoral board members for ensuring the successful holding of the BSKE.
"Despite the fact of our limited resources, nakakagawa sila ng mga pamamaraan upang maituloy lang 'yong election, dahil and pangako natin, (the teachers are resourceful to push through with the election because we committed that) there should be no failure of election in any of the 201,786 precincts in the country, and we stood to that commitment na walang failure of election dapat (that there should be no failure of election)," Garcia said.
He added that all of the 201,786 precincts across the country have functioned during this year's elections, although some polling precincts started late due to several issues like security.
Reported violence
Election watchdog Parish Pastoral Council for Responsible Voting (PPCRV) has reported violent incidents during the BSKE, many of which happened in BARMM.
According to PPCRV regional coordinator in BARMM Fr. Dave Procalla, two were killed and five were wounded in a shooting incident in Brgy. Buawas, Datu Odin Sinsuat in Maguindanao del Norte.
In the municipality of Tuburan in Basilan, arguments between lawless supporters of both administration and opposition candidates in Sitio Tambun, Brgy. Sinulatan turned violent around 9:30 a.m., while gun shots were heard in Brgy. Lahi-lahi to sabotage the election proceedings, which made some voters flee from their voting place out of fear. No civilian casualties nor injuries were reported in the incident in Brgy. Lahi-lahi, according to Procalla.
Still in Basilan, in Brgy. Badja in the municipality of Tipo-Tipo, a resident of Brgy. Bohelebbung was shot by an unidentified gunman.
"The victim was brought to Lamitan City District hospital. Whether the shooting was politically motivated is under PNP (Philippine National Police) investigation," the Catholic priest said.
Procalla added that in the same village, opposing supporters' argument ended up in "suntukan and barilan" (punching and shooting).
"When a punch was thrown and an 'itak' (bolo) was wielded, the supporter of the opposing group shot the itak-wielding attacker who was chasing him, causing mayhem in the polling precinct," he added.
The PPCRV also confirmed that a group of men, who are allegedly supporters of candidates, entered two precincts in Puerto Princesa Pilot Elementary School in Palawan and forcibly took and tore the official ballots.
An incident of presence of armed men in Cebu town was also reported in Central Visayas.
Despite these incidents of violence, Garcia said electoral board members and voters continued the election process.
Voting period in BARMM was extended amid the incidents that happened in the region, the Comelec chief added.
Electoral boards quit
Garcia said some 2,530 electoral board members in BARMM backed out before the polling day due to fear for their security.
Education Spokesperson Undersecretary Michael Poa said in the same press conference that 29 teachers from Abra also backed out before the election day, and two more from Brgy. Lapat Balantay in Tineg on the polling day wanted to quit after hearing gunshots in the polling area but decided to continue their service during the BSKE.
"Failure of election is when there is violence, threat, intimidation, terrorism, force majeure, or destruction or loss of election paraphernalia, which will cause the impossibility of the holding of the election. But if (these) happened very near the closing of the polls, then there was already an election, in which case, we can proceed with the conduct thereof," Garcia noted. (PNA)