By Ferdinand Patinio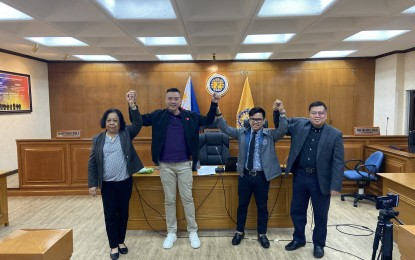 MANILA – The Commission on Elections (Comelec) on Friday proclaimed Roberto Uy Jr. as the duly elected representative of the 1st District of Zamboanga del Norte.
The poll body's Special Provincial Board of Canvassers convened in a ceremony at the Comelec main office in Manila to proclaim Uy as a new member of the House of Representatives.
It was in compliance with the Supreme Court's (SC) ruling declaring Uy as the rightful winner in the May 2022 elections.
The case stemmed from the Provincial Board of Canvassers' (PBOC) move to declare Romeo Jalosjos Jr. as the winning candidate after the votes of a certain Frederico Jalosjos, who was declared a nuisance candidate, were credited to him.
On election day, Uy received 69,591 votes; R. Jalosjos, 69,109 votes; F. Jalosjos, 5,424 votes; and another candidate Richard Amazon, 288 votes.
After the Comelec declared Frederico a nuisance and that votes cast for him should be voted in Romeo's favor, Uy then filed a petition before the SC which then issued a status quo ante order on July 12, 2022.
The SC, in an Aug. 8 ruling, said the Comelec committed grave abuse of discretion in its order to suspend Uy's proclamation as it was only based on R. Jalosjos' allegations and that F. Jalosjos is not a nuisance candidate.
Uy, meanwhile, thanked Comelec for their impartial and diligent oversight of the election process.
"I am honored by this proclamation and the trust that the people of the 1st District of Zamboanga del Norte have placed in me. I am committed to working tirelessly to bring back the old glory of our beloved province. Together, we will address the challenges our community faces and work towards a brighter future for all," he added.
Uy is a former mayor of Zamboanga del Norte's Polanco town. During his term, he led municipal development projects in the areas of livelihoods, education, sports, and infrastructure.
R. Jalosjos has filed a motion for reconsideration before the High Court seeking to reverse the annulment of his proclamation. (PNA)