By Ferdinand Patinio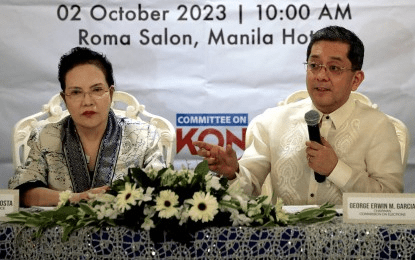 MANILA – The Commission on Elections (Comelec) is looking to file around 40 vote buying cases before the start of the campaign period for the Barangay and Sangguniang Kabataan Elections (BSKE) on Oct. 19.
"The Committee (on Kontra Bigay) is already assessing and gathering additional (pieces of) evidence so we can already file cases. We will probably have, from a previous number of 23, to around 40 cases," Comelec chairperson George Erwin Garcia said in a press briefing after the signing of a memorandum of agreement (MOA) with the Public Attorney's Office (PAO) at the Manila Hotel on Monday.
He noted that so far, they have filed two vote buying and premature campaigning cases.
Garcia said they will file other cases before the start of the campaign period to deter vote buying.
"I am convinced that no one will try to buy votes once they see how serious we are when it comes to vote buying," he said.
Under the MOA, Chief Public Attorney Persida Rueda-Acosta said the PAO would provide legal assistance to witnesses and complainants in vote buying cases.
"Those who would want to execute an affidavit that their votes were bought would be assisted by PAO in doing so. For suspects, the public attorneys would also assist whether they would need to post bail or in inquest proceedings. Rest assured that the PAO would be open on Oct. 30," she added.
Vote buying and vote selling are defined as giving, offering, or promising money or anything of value, directly or indirectly, to induce anyone to vote for or against any candidate.
The illegal activities are considered election offenses under the Omnibus Election Code.
Violation of the law carries the penalties of one to six years imprisonment, disqualification to hold public office, and removal of the right of suffrage. (PNA)