By Priam Nepomuceno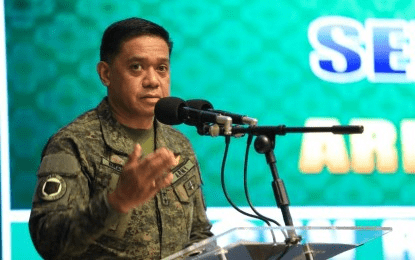 MANILA – The New People's Army (NPA) and its allies have been greatly weakened after suffering heavy losses from January to August this year, Armed Forces of the Philippines (AFP) chief Gen. Romeo Brawner Jr. said Thursday.
In a forum organized by the Foreign Correspondents Association of the Philippines (FOCAP), Brawner said the AFP has neutralized 2,658 NPA members and their supporters from Jan. 1 to Aug. 17 this year.
Of this number, 124 were killed during encounters with military forces, while 87 were arrested and 2,447 surrendered to the government, he said.
"As far as the communist terrorist group is concerned, we are again happy to report that we have already neutralized most of the guerrilla fronts operating in the country. We have weakened a lot of them and there are now just a few armed elements operating in the country," Brawner said.
With these constant losses, he said, they are seeing a "downward trend of the number of communist coddlers" caused by the neutralization of many of their ranking leaders.
"We are very happy because since last year, with the neutralization of their top, their key leaders, we have seen a widespread surrender of fighters, and also with the death of (Communist Party of the Philippines founder Jose Maria) 'Joma' Sison, now we see that they (are) losing the ideology," Brawner said.
"And with this decline, many of the surviving NPAs could be just classified as bandits as they are engaged in extortion rackets."
He noted the possibility of the AFP "neutralizing" the NPA by the end of the year.
"(And) when we say neutralize, it doesn't mean that we are going for total annihilation – it's impossible to do that. But what we are trying to say is that by the end of the year, most of these horizontal and vertical formations – horizontal, these are the guerilla fronts; vertical formations are the small armed units that would go around to wreak havoc in the communities – we are hoping that they will be inconsequential, (and) not be able to launch any terroristic activities anymore," Brawner said. (PNA)