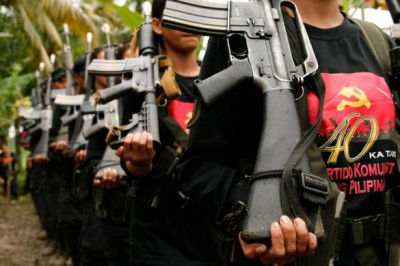 MANILA, January 4, 2011 (AFP) – Communist rebels in the Philippines vowed on Tuesday to launch attacks against the military and companies that rejected extortion demands, ahead of a planned resumption of peace talks this month.
Arman Guerrero, a spokesman for the New People's Army's (NPA) political front, said all cadres were to launch the attacks after an 18-day Christmas ceasefire with government officially ended at midnight Monday.
"Starting today… all members of the revolutionary movement… must launch tactical offensives to punish human rights violators," Guerrero said.
The NPA typically accuses the army of massive human rights abuses to justify their attacks, although Guerrero said companies who "do not follow the rules and policies" in its areas of influence were also fair game.
The NPA has been known to demand illegal "revolutionary taxes" from mining and logging firms that operate in remote areas under its sway, as well as from local politicians.
The NPA's threat came as both sides were preparing to resume preliminary peace negotiations to be held in the Norwegian capital of Oslo this month, their first talks since 2004.
President Benigno Aquino's chief peace adviser, Teresita Deles, urged the NPA to call off the attacks, which could potentially undermine peaceful efforts to arrive at a political settlement with the rebels.
"There are no conditions set for the talks to proceed, but for the sake of our communities, I hope that the NPA will not carry out this threat," Deles told AFP.
"Let both sides instead devote time and energy to serious preparations for the upcoming peace talks."
The 4,700-strong NPA is the armed unit of the Communist Party of the Philippines, which began its Maoist insurgency in 1969, in a conflict that the military says has killed thousands of people.