By Lydia V. Solis
LOS ANGELES – The Philippine Consulate General of Los Angeles, during times of emergencies, will become the central coordinating office for the Filipino American community, with the Philippine Disaster Relief Organization (PeDRO) accepting the challenge of organizing leaders and volunteers from the Fil Am community to effectively respond to emergencies in their areas.
On April 1st, the Consulate held an Emergency Preparedness Meeting at the Rizal Hall with James G. Featherstone, General Manager, Emergency Management Department, City of Los Angeles, as Resource Person.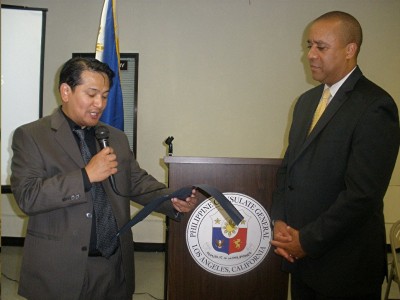 Featherstone, who is also the national adviser for the Federal Emergency Management Agency (FEMA), is a native of Washington D.C. and a veteran of the United States Navy. He began his years of service to the City of Los Angeles in 1986, with the Los Angeles Fire Department.
"With California smack dab in the Ring of Fire, especially for earthquakes and tsunamis," Featherstone stated, "Angelenos need to be prepared at home, in transit and at work or school." He reminded the audience where to find drinkable water.
"It's right in your water heaters and toilet tanks," he said. "How many of you knew that?" he asked. He emphasized the need for self-sufficiency in the first 72 hours after a disaster strikes when there won't probably be electricity.
"In Omnia Paratus," Featherstone said, quoting the Latin for "In All Things Prepared." On a typical business day the population of Los Angeles burgeons from about 4 million to 6 million people in a 470-square-mile area that can fit seven other major cities within it, including Manhattan, New York, according to Featherstone.
"Only three of the 17 emergency events FEMA recognizes won't happen here," he added.
"We'll never have a hurricane, snowstorm, or volcanic eruption. Other places that experience those three, however, will never experience events such as Michael Jackson's funeral or unrest similar to the 1992 riots."
"We always think catastrophes happen to 'the other guy,'" said the former Navy man.
Well, guess what. Your middle name is 'the other guy,'" Featherstone told a packed consulate office. "Remember that in any emergency we sink to the height of our training. So we all should be highly trained."
If an earthquake strikes before dawn, such as the 1994 Northridge Quake, those still in bed should stay in bed, using a pillow to protect the head and neck.
The advice for drivers caught in a major earthquake, is to pull over, turn off the ignition and set the parking brake. Don't park under bridges, power lines or road signs. Stay inside your car until the shaking is over. If a power line falls on your car, don't exit your vehicle but wait until trained personnel remove the wiring.
Featherstone brought Tagalog emergency supply checklists along with children's books and pamphlets with kid-friendly stickers. There were also U.S. Homeland Security handouts on what to do with pets during an emergency, and how to prepare for a terrorist attack.
After an attack, advice included staying calm and thinking before acting. "Don't let terrorists get what they want most: to hurt a few in order to intimidate many," one handout stated.
The same handout debunked the popular e-mail about the so-called "Triangle of Life." The e-mail had warned people not to duck-and-cover under something sturdy like an office desk or dining room table, but to stay exposed on the floor next to a couch or bed.
"You may have received an e-mail that seems to make sense," the handout stated."Unfortunately, it actually has dangerous instructions and is promoted by someone whose credibility has been broadly questioned."
Other checklist items that you may not have thought about having: at least $50 to $100 in small bills per person; a hand-crank radio; important documents in paper and electronic form on a flash drive, all protected from moisture inside a Ziploc bag; an out-of-town contact whom all family members can call to check in and give their location; one favorite toy or book for a child.
"You have to be able to stop the bleeding," Featherstone said. "And I mean bleeding not only in the literal sense but psychologically and materially as well." (Photo by Lydia V. Solis)