The regular Sunday morning cooking class held at the Williams-Sonoma store in Arcadia's Woodfield Santa Anita Fashion Square came to an end last Sunday, when the more than a dozen cooking class participants said "hasta la vista" ( or 'til we see you again) to Chef Ken Benjamin, who has truly demonstrated his expert cooking skills to all of us, where he brought not only the traditional style of cooking from his family but he brought in his own contemporary personal touch of cooking as well.
Some of the topics we learned from his one-hour cooking demonstration classes include a lot of "how-to's" such as: "How to de-bone poultry,""How to prepare for a New Year's Eve Party, ""Valentine's Party.""Thanksgiving Turkey Treat,"  "Comfort Food,""Autumn Braising,"'Cooking with Cast-Iron,""Knife Skills Techniques," or learning to mix "Teas, Juices and Smoothies."
According to Chef Ken, he "enjoys working and creating new food ideas," having been taught early on by his Mom.
He has a Bachelor of Science degree in  Food & Nutrition from Cal Poly Pomona where he graduated in 1983. After graduation, he went on to pursue Culinary Arts (Chef Training) at the Los Angeles Trade Tech in 1984. Thus began his teaching career at the Azusa Adult School where for a couple of years, he taught Cake Decorating and Baking.
Ken has been teaching Cooking Technique Classes at Williams Sonoma since 2006 though he has also been with the Albertson's Food Chain for the past 36 years. His remarkable Customer Service and innovative Barbecue Shop has earned him quite a following in the community.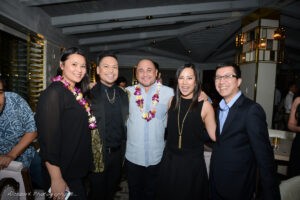 Though we will miss Ken Benjamin's Cooking Technique classes in Arcadia, we will hopefully try to follow him wherever he may be transferred to.
On a related field, this writer and a colleague, Lydia Solis, were invited to The Filipino Channel (TFC's) "Lifestyle Network" Cable Television's first season launching of their new show called "Cooking Hawaian Style" with Lanai Tabura, as well as the second season announcement of their talk show "On Your Marc" with Marc Anthony Nicolas.
Lanai Tabura's "Cooking Hawaiaan Style" show will be airing every Saturday morning at 10 am PT on TFC's "Lifestyle Network.".  He is a DJ, comedian, actor and a 25-year radio veteran who co-created Hawaii Island's 98.5 radio station and has also established the 99.1 radio program"Hawaii No Ka Oi."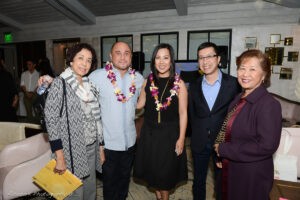 Tabura's prominence in entertainment started in the 1990's when he became a part of a local comedy trio called "The Three Local Boys." On his own, he has opened acts for Jo Koy, Wayne Brady and Damon Wayans. His versatility includes recording four albums and singing  hits such as:
"Rice, Rice Baby," and "Me So Hungry."
Making his   transition into television, Tabura has co-hosted " Anthony Bourdain: No Resurrections," and he has appeared on shows like:"Baywatch Hawaii." He has alos hosted "Wake Up Today," on KHON TV 2 and has appeared on the Food Network's "The Great Food Truck Race," thus, thrusting him in the national food scene and giving way to his "Cooking Hawaiian Style" show which will now be seen on TFC's "Lifestyle Network,"
If you're into learning cooking techniques like me and wish to follow Chef Ken Benjamin, you can call the customer service at Williams Sonoma at: 1-800/840-2591 to see what store branch he will be teaching next and if you would like to know more about Lanai Tabura, you may log on to his website at: www.lanaitabura.com.