By Benjamin Pulta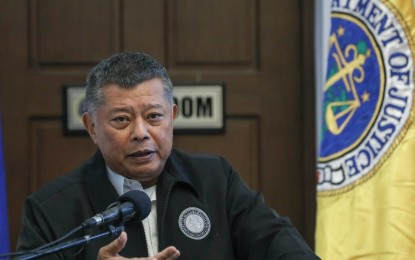 MANILA – Government agencies must exert concerted efforts to ensure that illegal Philippine Offshore Gaming Operators (POGO) are discontinued, according to Justice Secretary Jesus Crispin Remulla on Friday.
Remulla underscored the need to scrutinize the rules on regulatory compliance following recent raids conducted on boiler room operations staffed by thousands of local and foreign workers in Pampanga and Las Piñas City.
"A lot of sensitive legal salient points have to be threshed out and this involves the agencies of the DOJ (Department of Justice) coordinating with every other office in the government that will help out in the efforts to weed out illegal POGOs," Remulla said during a press conference.
The coordination will include the Bureau of Immigration (BI), Department of Social Welfare and Development, Department of Foreign Affairs, and the police, according to Remulla.
"We will thresh out these issues so that we will not be pointing at each other. We will be working as a team for the government," he said.
Remulla said they will also seek guidance from the Supreme Court so that the procedures necessary to carry out their mandates to stamp out illegal POGOs will be done properly.
"So ang ginawa namin tiningnan namin lahat ng (we are exploring every) weak points from the experience that we have. We are making sure that the weaknesses of the cases in the past will no longer be there," he added.
Remulla said the BI will continue to enforce the rules against illegal aliens or offenses involving foreigners.
However, there will still be cases that must be tried in the country even if the foreign nationals have proper documents, he said. (PNA)